MSU welcomes new volleyball head coach Leah Johnson with open arms
Manit Patel, General Assignment Reporter
February 9, 2022
EAST LANSING – Following Michigan State athletic director Alan Haller's announcement of Leah Johnson as the new volleyball head coach on Feb. 8, Johnson was introduced in a press conference at Spartan Stadium Tuesday afternoon. Johnson replaces Michigan State legend Cathy George who retired on Jan. 14 after helming the Spartans for 17 years. 
Johnson, the former head coach at Illinois State, said that while the goals are to "win a Big Ten championship, you don't come to Michigan State without competing for a national championship."
When introducing Johnson, Haller spoke highly of her resume. During her five seasons as the head coach at Southern Illinois University-Edwardsville, Johnson recorded 80 wins and 98 losses. While that may not look pretty, she built the program up during her six years as head coach and led the Cougars through a transition period when they moved from Division II to Division I. The program showed tremendous growth evidenced by a top 100 final RPI in 2016 along with a 22 win season, the most for an SIUE team during its time as a Division I program. 
Johnson built off of that 2016 season and was hired as the head coach at Illinois State. Over five seasons, she quickly racked up accomplishments appearing in the postseason every season while amassing a 104-53 record. The Redbirds appeared in four straight NCAA tournaments, winning the Missouri Valley Conference regular-season championship in 2018 and 2020, along with winning three straight MVC tournament championships from 2019-2021. The program's performance was rewarded by the athletic department, as Johnson had made plans to stay in Normal, Illinois, after signing a five-year extension through 2027 in January.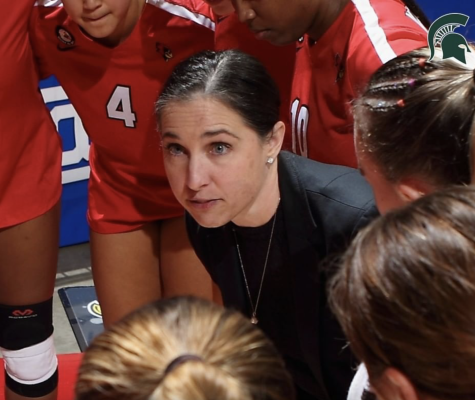 While her resume and accomplishments stood out, Haller and the athletic department were sold on Johnson's passion and energy. "It won her the job," Haller said. "Spend just a few moments with her and you'll understand. Everyone she met on campus spoke highly of her energy," said Haller. 
That energy was present during Johnson's press conference, when she spoke to the team saying, "In the premier volleyball conference… I feel that I am at the premier institution." 
She added to her goals saying that she will, "Show up every day to be the most competitive person in the room, and show up every day to provide a path for athletes to chase their potential."
Johnson spoke highly of the former Spartan's coach George, citing George as one of Johnson's reasons for coaching. At the beginning of her career, George was one of very few women coaches in the Big Ten, much less the country.  "(George) was holding a space at one of the best institutions in the country, in the best conference in the country," said Johnson. 
"I'm looking to hopefully build a Cathy-like legacy," she added. 
Johnson feels that the athletic department reciprocates the way she coaches, and leads a program, by "cultivating relationships and connections." Once she began seriously considering the job, she began watching press conferences with some current Spartan head coaches and with Haller. She noted a "consistent theme of integrity, vision, and thinking bigger than where we are now."
Johnson has already met with women's basketball head coach Suzy Merchant and softball head coach Jacquie Joseph, as well as men's basketball head coach Tom Izzo. Johnson added that in the meeting with Izzo, they sat and talked for almost an hour and that Izzo "shared his passion to see everyone succeed." Hearing that was exciting for Johnson. "You don't see that in every Power 5 conference men's basketball coach," said Johnson. She also added that she spoke with Mel Tucker on his rise to popularity, recruiting, and how the two teams can work together.
Such collaborations between coaches are uncommon, and something Haller wanted to promote. He said various head coaches across the athletic department were involved in the search, "we're building a team together, and this was a family decision on who's best for our student-athletes," said Haller. 
As MSU volleyball looks to return to the NCAA Tournament for the first time in four seasons, a new era, led by Leah Johnson, is underway.