No. 10 Spartans trounce Wolverines 83-67 behind Christie's 16 points
EAST LANSING – Victory was sweet for the No. 10 Spartans on Saturday, as they trounced the Michigan Wolverines 83-67. After their last scheduled matchup was postponed, and is still pending a make-up date if there will be one, the Spartans took things personally.
And boy, did they deliver in front of a rowdy Breslin Center crowd.
"The crowd was unbelievable," MSU coach Tom Izzo said. "It reminded me of old times… it was an incredible environment."
MSU's Marcus Bingham Jr. blocked two shots in his first six minutes of playing time, setting the tone for the Spartans on defense. Max Christie also knocked down an early 3-pointer, a sign of things to come in the game for the freshman. With 9:21 to play until halftime, Christie converted a 4-point play to tie the game at 18, and connected on his third three of the game two minutes later.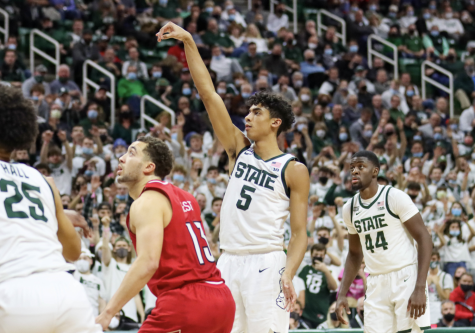 The Spartans had their way getting to the rim early, but the Wolverines tightened up on defense and put MSU's Malik Hall in some early foul trouble. When he checked back in, he made his presence felt by grabbing an offensive board off an A.J. Hoggard miss, then going up for an and-one finish. With 3:27 until halftime, he took the ball coast-to-coast for a finger-roll finish off the glass to put his team up 33-30.
The final points of the first half came from MSU's Tyson Walker, who knocked down a three on the right wing off a stepback to get separation from Hunter Dickinson. On the other end, Dickinson missed a 3-pointer and a layup on Michigan's final possession, as the Spartans took a 39-35 lead into halftime.
The story of the first half had to be Dickinson's production for Michigan, and the Christie-Hall combination for MSU. Dickinson finished the half with 14 points (5-for-11 field goals) and four rebounds despite some defensive stands from Bingham. Christie, on the other hand, looked well on his way to a new career high, scoring 14 points (3-for-4 from deep) in the half while Hall pitched in 11 and two steals.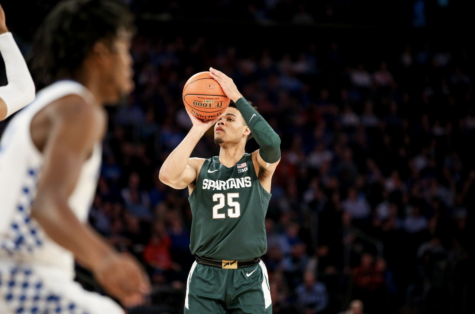 The Spartans' defense was something close to spectacular in the first half as well, as they held the Wolverines to 36 percent shooting, blocking four shots (Bingham with two despite only nine minutes) and getting three steals. The Wolverines' saving grace was the Spartans' nine turnovers, which they turned into nine points.
The Spartans threw a haymaker to start the second half, going on a 14-3 run. Featured were two more Bingham blocks as well as two crafty finishes from Hoggard, and was punctuated by a Gabe Brown slam (his first points of the game) off a Jaden Akins steal to put the Spartans ahead 53-38. As expected, they'd ride that wave to victory.
"What they did, that was pretty unique and special," Michigan coach Juwan Howard said of the Spartans' second-half performance. "They came at us (as) the most aggressive team, the most physical team."
It truly was all hands on deck for the Spartans in this one. There were 10 Spartan scorers, and five connected on at least one 3-pointer. Dual-athlete in basketball and football, Keon Coleman, even got to the cup for a layup in the final 30 seconds.
The unsung hero was Bingham, who finished with just four points, but grabbed eight boards, blocked four shots, racked up two steals, and played hellacious defense. He was one of the biggest reasons that the Spartans held the Wolverines to just 37 percent shooting for the game. Another glaring discrepancy in the contest was the Spartans' 50 percent 3-point mark vs. the Wolverines' 16 percent. 
Hauser turned in arguably his best game of the season, as did Hall. They combined for 29 points. Hoggard finished with a double double (11 points, 10 assists).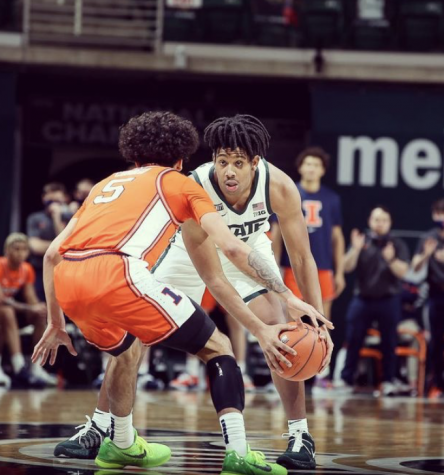 "I do have to give A.J. a lot of credit," Izzo said. "He really played under control. He really controlled things."
Every single Spartan that touched the floor contributed en route to the 16-point victory.
Dickinson was the Wolverines' most stable offensive option, scoring a game-high 25 points, but Izzo and the Spartans knew he would be a lot to handle.
"We didn't double down on Dickinson, but that was kind of the game plan," Izzo said.
Moussa Diabite and Caleb Houstan each contributed 11 points for the Wolverines as well.
The Spartans will be back in action on the road as they take on the Maryland Terrapins on Tuesday. You can follow @WDBMSports on Twitter for all of your game coverage.