Previewing No. 15 MSU gymnastics at No. 1 Michigan
EAST LANSING, Mich. — The Michigan State women's gymnastics team is getting set to travel to Ann Arbor for its meet against the Wolverines this Sunday at 2 p.m. 
The Wolverines are the reigning NCAA Division I gymnastics champions and are still ranked No. 1 in the country. The matchup will be a huge test for the Spartans, who are ranked at  No. 15. 
The Spartans are coming off of a tough loss against No. 17 Iowa with a final score of 196.475 to 196.350. MSU saw a lot of positives from the meet, though, including freshman Gabrielle Stephen's almost perfect vault with a score of 9.950. Stephen has also been named Big Ten Freshman of the Week once this season. 
Some other positives from the meet against the Hawkeyes were freshman Skyla Schulte capturing her first all-around title with a final score of 39.225. Sophomore Delanie Harkness took first place for the uneven bars with a score of 9.925. On the floor, senior Sydney Ewing set a new career-high with a score of 9.900. Also, on the beam, sophomore Baleigh Garcia took second with a score of 9.900.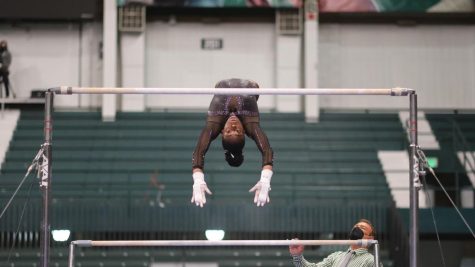 Going into Sunday, the Spartans have an overall record of 4-1 but 0-1 in Big Ten competition. On the other side, the Wolverines are undefeated with a record of 3-0 and 1-0 in Big Ten competition.
The last time the Wolverines hit the mat was at No. 7 Minnesota, where they became the first team in the nation to break past the 198-point barrier with a win of 198.025 to 197.650. Junior Sierra Brooks placed third in the all-around competition with a final score of 39.700. On the vault, sophomore Naomi Morrison took second with a score of 9.975. Brooks also took home the beam title with a score of 9.950. On the floor, junior Gabby Wilson, Morrison and Brooks scored career-bests of 9.950. Freshman Jacey Vore stepped up and was able to post a score of 9.900 on the uneven bars. 
So far this year, the Wolverines have a team average score of 197.850, while the Spartans have a team average of 196.233. It should be a tight back-and-forth meet on Sunday, but for the Wolverines to be served their first loss of the season, the Spartans need to have all spectacular routines with minimal mistakes. Nationally, the Wolverines rank first on the floor and vault. For the Spartans, expect Stephen to have yet another high-scoring day. As for the Wolverines, expect Brooks to score high in the all-around competition.