MSU back in top 10 of AP poll after win over Wisconsin
Manit Patel, General Assignment Reporter
January 24, 2022
EAST LANSING, Mich – After a bounce-back win on the road against formerly No. 8 Wisconsin on Friday, Michigan State moved up four spots, back to No. 10 in the weekly AP poll rankings released Monday afternoon.
The Spartans are one of five teams from the Big Ten that were ranked in the weekly poll, with two other teams receiving votes. MSU is again the second-highest ranked Big Ten team, behind only Purdue (No. 6). The Spartans come in ranked one spot higher than Wisconsin (No. 11) and six spots ahead of Ohio State (No. 16). Illinois (No. 23) rounds out the Big Ten delegation in the poll after slipping seven spots this past week. Indiana and Iowa also received votes, with the Hoosiers receiving 10, and the Hawkeyes receiving eight.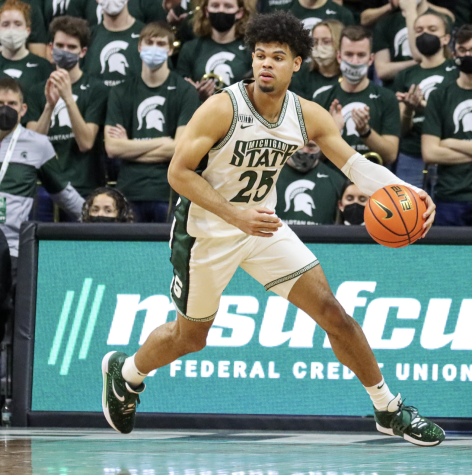 The Spartans climbed back to No. 10 after their 86-74 win over the Badgers, which was fueled by a 16-point halftime lead. After falling behind 8-0, MSU took off on a 42-18 run to end the first half. The Spartans featured five double-digit scorers, with three coming off the bench. Those in double figures included Malik Hall, A.J. Hoggard, Max Christie, Tyson Walker and Jaden Akins. The win moved MSU to 15-3 on the season, with a 6-1 Big Ten Conference record and sole possession of first place in the conference once again.
This is the Spartans' seventh consecutive appearance in the Top 25 of the AP Poll after beginning the season unranked. MSU plays two games this week. It starts the two-game slate off by visiting No. 23 Illinois on Tuesday at the State Farm Center. Following the matchup with Illinois, the Spartans will host Michigan on Saturday at the Breslin Center for the teams' first matchup of the season.