Late comeback falls short, Michigan State loses sixth consecutive game to No. 15 Ohio State 3-2
The Michigan State Spartans have played 26 games this season. Twelve of those games were played without senior forward Mitchell Lewandowski. Throughout those dozen games, the Spartans have yet to answer the biggest questions plaguing this team and fueling what is now a six-game losing streak.
How will the Spartans score goals without Lewandowski in the lineup? What is this team's identity on offense?
While they showed flashes of having a possible answer, the Spartans could not string together enough consistent offense to beat the No. 15 Ohio State Buckeyes at Munn Ice Arena Saturday night en route to a 3-2 loss. With the defeat, MSU is now 11-14-1 on the season with a 5-11 record in Big Ten play.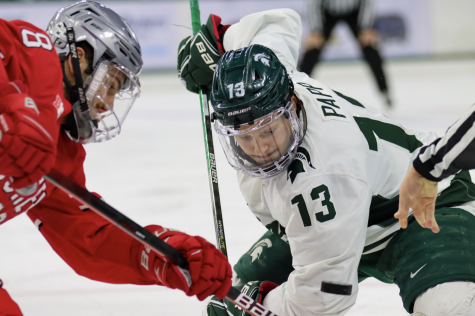 The Buckeyes opened up the scoring early when freshman forward Cam Thiesing deflected an outside shot from fellow freshman Mason Lohrei that went over the left shoulder of Spartan goaltender Drew DeRidder.
Both squads set a physical tone early in the first period, which came to a head when MSU junior forward Jagger Joshua attacked Buckeye netminder Jakub Dobeš for a loose puck that Dobeš quickly froze. 
Within a few seconds of the whistle, Thiesing charged at Joshua to defend his goalie, putting him in a chokehold before throwing the Dearborn native to the ice. Both Thiesing (roughing after the whistle) and Joshua (goalie interference) were given minors on the play.
From then on, big hits and clashes after the whistle would characterize much of what was to come. Such a physical battle played into the hands of Michigan State at times, as the Spartans played some of their best hockey fighting for pucks in the corners and scrapping for rebounds in front of the net.
"What you have to do to be physical in hockey is you've got to be moving your feet and you've got to be playing ahead," Michigan State head coach Danton Cole said. "When you are, you know guys' feet are moving."
The Spartans found themselves moving the puck well and generating scoring chances early, but they could not convert. Senior forward Adam Goodsir received the puck in a prime scoring location opposite Dobeš for a one-timer in the first, but could not keep the puck on his stick to get a shot off.
Buckeye freshman Georgi Merkulov put an awkward bounce past DeRidder, and after a failed challenge by Cole for offsides, Ohio State went up 2-0.
Less than three minutes later, the Spartans would find an answer on the power play. After junior Jaedon Leslie went to the box for holding, Michigan State would go to its third power play of the game. In a play that was very reminiscent of Thiesing's first period score, freshman David Gucciardi fired a shot from the point that Erik Middendorf would tip past Dobeš, creating a one-score contest.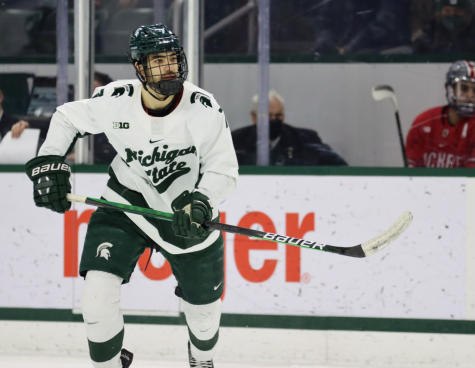 "He's a really good goalie," junior forward Erik Middendorf said of Dobeš. "I tried to find another way to score tonight by parking in front of him and tipping one in. You've got to find a different way to score against that guy…get him to move because he's a big guy."
Right before the second intermission, Steve Rohlik's squad dealt one last blow for the Spartans to take into the locker room. Freshman Georgi Merkulov settled a pass from Lohrei and rocketed the puck from a tough angle to beat DeRidder above the short-side leg pad.
"It's a game of inches," freshman forward Jesse Tucker said. 
The Spartans would now have 20 minutes to pull off their best Cleveland Cavaliers impression and come back from being down 3-1 . 
They came close, but as Cole said, the Spartans "ran out of time."
Dobeš was strong in goal all night, but Tanner Kelly would get a late rebound with 1:13 left in the game to bring the Spartans back within one score.
While Dobeš was under siege for that entire minute and change, the Spartans could not find the magic they needed to tie it up, and  the Buckeyes snuck away with a 3-2 victory and the series sweep.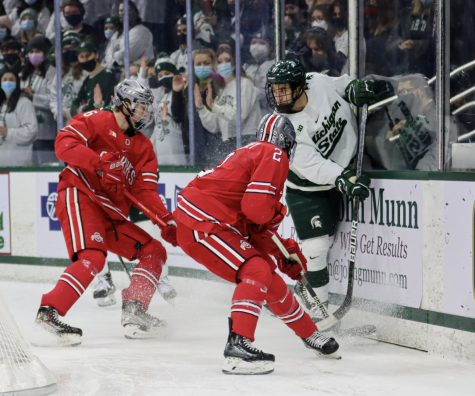 "We had so many chances at the end of the game," Middendorf said, "but that was the message…we've got to play like that for 60 minutes. We were Spartans those last two minutes of the game, and they couldn't even get out of their zone."
The schedule only gets tougher from here on out. Next week is a bye week, but after that? It's a rematch with Minnesota, this time on the Olympic sheet at 3M Arena in Minneapolis. If the Spartans want to build up some confidence and momentum to take into the Big Ten Tournament, the clock is ticking. However, the team seems to have found something they can build on.
"Obviously losing sucks, and everybody's pissed off about that, but we can't be too upset with our performance," Tucker said. "We put it all out there, and sometimes you don't come out on the right side of things…We got to play with a little chip on our shoulder here."