MSU G/F Moira Joiner ruled out for the rest of the season
EAST LANSING, Mich – The Michigan State Spartans got some tough news on Tuesday as it was announced that junior guard Moira Joiner would be officially out for the rest of the season due to a concussion that has kept her in and out of concussion protocol over the past few weeks.
Joiner was a key bench piece for the Spartans this season, averaging 5.9 points and 4.1 rebounds per game. But, where the Spartans will miss her most is on the defensive end. Joiner was an elite and verstalite wing defender, averaging almost a steal a game. 
Head coach Suzy Merchant said that the team is listening to various members of the MSU Sports Medicine staff, who have advised Joiner not to play for the rest of the year.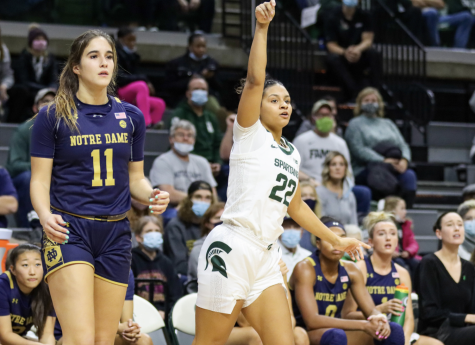 "She was trying to come back and knows how we are limited in guard play, but you have to put your health and wellness first and listen to the doctors," Merchant said. "It is in her best interest right now to shut down for the rest of the season."
Merchant said that Joiner is one of the toughest players she has ever coached, but the benchmarks needed for her to return to game action have simply been too much to overcome.
Michigan State is already very thin at guard, with currently only freshman DeeDee Hagemann, Nia Clouden and Laurel Jacqmain receiving the bulk of the playing time. 
In the offseason, guard/forward Julia Ayrault and Tory Ozment both suffered season-ending injuries. Starting guard and double-digit scorer Alyza Winston also entered the transfer portal and subsequently committed to Mississippi State on Jan. 1. 
Merchant will have to find an answer for guard help for the Spartans, who are coming off their best win of the season against Northwestern on Sunday. Freshman forward Matilda Ekh has been getting more playing time with the ball in her hands and has scored at least 18 points in her past two games.
Joiner appeared in 12 games this season for the Spartans, starting in five. She will still have two more seasons of eligibility with the Spartans if she wants them, when she is eligible to return next year for her senior season.