Spartans end season at No. 9 in AP poll
Manit Patel, General Assignment Reporter
January 11, 2022
EAST LANSING, Mich- After a season that exceeded expectations and ended in a New Year's Six bowl appearance and an 11-2 record, the Michigan State Spartans finished the 2021 season ranked No. 9 in in the final AP Poll rankings of the 2021-22 season. 
Michigan State entered the season unranked and as an afterthought in the Big Ten title race. However, an exceptional season, highlighted by thrilling come-from-behind wins over No. 6 Michigan, Penn State, and Pittsburgh in the Peach Bowl, led the Spartans to their 17th AP Poll postseason Top 10 finish and first under second-year head coach Mel Tucker. 
The 2021-22 season was only the sixth time in school history that the Spartans have won at least 11 games; it was the second New Year's Six win for MSU dating back to the 42-41 2015 Cotton Bowl win over Baylor.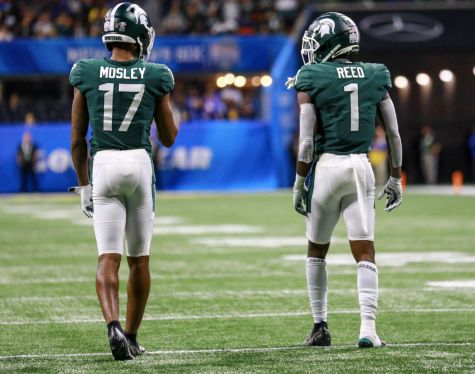 After beginning the season unranked, it took the Spartans two weeks and a 38-17 road win over Miami (Florida) to enter the Top 25 of the rankings, when they came in at No. 20. From there, the Spartans steadily rose in the rankings into the Top-15 as the wins kept racking up over Nebraska, Western Kentucky, Rutgers, and Indiana. MSU knocked off both Western Kentucky and Rutgers by at least 17 points.
Michigan State held the No. 8 spot in the AP Poll and featured a potential Heisman Trophy candidate in running back Kenneth Walker heading into its undefeated matchup with No. 6 Michigan on Oct. 30th. The Spartans' come-from-behind 37-33 win propelled them to No. 5 in the AP poll and No. 3 in the College Football Playoff rankings.
The next week, the Spartans travelled to West Lafayette and fell to Purdue 40-29 and slipped to No. 8 in the AP Poll after suffering their first loss of the season.
A 40-21 home win over Maryland on Nov. 13 moved the Spartans back to No. 7 before No. 5 Ohio State ended the Spartans Big Ten title hopes with a 56-7 shellacking. The resounding loss dropped MSU to No. 12 in the poll.  MSU would subsequently rise up a spot after knocking off Penn State 30-27 on Nov. 27 to conclude the regular season.