Spartan defensemen aim to keep the puck moving against No. 9 Minnesota
EAST LANSING, Mich. – Some of the hardest teams to prepare for are those where the defensemen are effective on both offense and defense. Think of the impact that guys like Cale Makar and Adam Fox have on their squads in the NHL.
The Michigan State Spartans are starting to learn that lesson themselves.
"It's like playing cards," head coach Danton Cole said. "Sometimes, it's better to fold and play the next hand. That's how defense is. If you go in all the time, at some point you'll get burned. That's why D-men take a little longer to get to the NHL. There's a bit more of a nuance to that position than the forwards."
The Spartans have gotten goals from their blueliners in six of their last seven games. Freshman David Gucciardi became the latest to find the back of the net, scoring three of MSU's four goals during the Great Lakes Invitational. 
Gucciardi's third goal was easily the most memorable. Early into overtime, with the game tied at two apiece, he received a feed in the high slot from fellow freshman Jesse Tucker. Gucciardi then went between his own legs and lifted the puck over the right shoulder of goaltender Blake Pietila.
That goal, his second of the game, would give Michigan State the 3-2 win over No. 18 Michigan Tech. Gucciardi would earn both a spot in the SportsCenter Top 10 and the Big Ten First Star of the Week.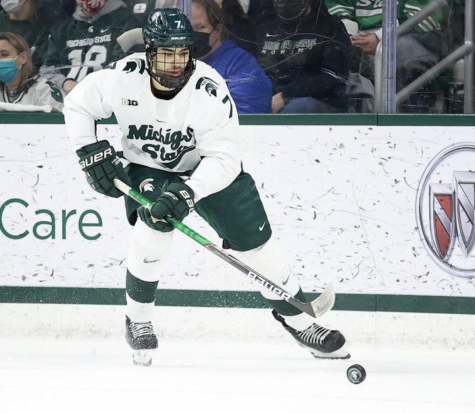 "He's so skilled, especially as a young guy," his teammate,  junior forward Griffin Loughran, said. "It's super fun to watch. The first half of the year for a freshman is a feeling out process and getting used to the college game. Once Christmas comes, guys take off…It's good to see."
Michigan State (11-8-1, 5-5-0 Big Ten) will try to extend that production into its weekend series with the No. 9 Minnesota Golden Gophers (10-8-0, 6-4-0 Big Ten) at Munn Ice Arena.
Minnesota comes into this series well-rested (mostly). While three Gophers played in the World Juniors before the tournament was cancelled, the team has not played an NCAA game in over a month. Their last time out, they split with Michigan on the road. 
The puck drops for the first game against Minnesota at 6:30 P.M. on Friday. The second tilt begins at 7:30 P.M. on Saturday.
What are the chances of Michigan State pulling off an upset?
They're better than you'd think at first. Minnesota, while they are championship contenders year after year, have had an up-and-down season to this point. They have some impressive wins, especially on the road – victories at North Dakota, Michigan, and St. Cloud State. 
However, since conference play has started, Minnesota has been pretty inconsistent. Their second Big Ten series of the year started with an overtime loss to last-place Wisconsin. 
Most recently, they dominated Michigan for a 5-1 win in Ann Arbor. The next day, however, the Wolverines nearly doubled the Gophers' shot total in a 6-2 Michigan blowout. That level of inconsistency at times should be maddening to any Minnesota fan.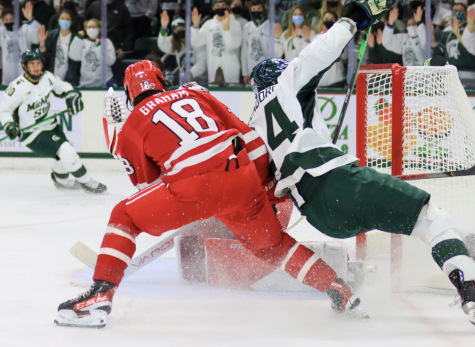 Minnesota has split their last five series in a row, dating back to early November, so there isn't much reason to think that trend should change here.
As far as an upset goes, I would say the same thing I said before the Notre Dame series. I think the odds of Michigan State taking both games is unlikely, but not out of the realm of possibility. Home ice advantage can work wonders in college hockey, and the defensive, low-scoring style of hockey the Spartans like to play often results in one-goal games that are virtual coin-flips. 
However, given the sheer talent that Minnesota has on the roster, it's hard to think they don't win at least one game. I would predict a split here, but then again anything is possible.