Spartans stay at No. 10 in AP Poll
Manit Patel, General Assignment Reporter
January 3, 2022
EAST LANSING, Mich—After a run-of-the-mill week that saw the Michigan State men's basketball team win twice while finishing their non-conference segment of the schedule, the Spartans came in at No. 10 in the AP poll for the second week in a row.
In total, seven Big Ten teams garnered AP Poll consideration, with the conference having four ranked teams and three others receiving votes. The Spartans were ranked seven spots behind Purdue, who came in at No. 3. 
Ohio State (No. 13) and Wisconsin (No. 24) were the other two ranked teams for the conference; Illinois, Iowa and Minnesota also received multiple ranked votes.
MSU stayed at No. 10 after knocking off High Point 81-68 at home on Dec. 29 without starters Max Christie and Marcus Bingham Jr. due to COVID-19 and Northwestern on Jan. 2. The Spartans' 73-67 win over the Wildcats improved their overall season record to 12-2 and 3-0 in the Big Ten.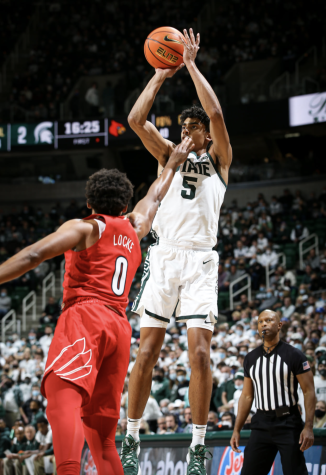 Through 14 games, the Spartans have mustered two conference road wins over Minnesota and Northwestern, three neutral court wins over NET Top-100 teams and a 21-point road win over Butler. MSU is currently 4-2 in Quadrant 1 games and 3-0 in Quadrant 2 Wins.
In total, Michigan State has won eight games over NET Top-1oo teams and both of their losses have come to current Top-10 teams in Baylor and Kansas.
The Spartans will look to improve on their current seven-game winning streak when they host Nebraska at home on Wednesday. The Cornhuskers are coming off a heartbreaking 87-79 home loss in overtime to No. 13 Ohio State and are 0-3 in Big Ten play and 6-8 on the season.