MSU F Max Christie receives Freshman of the Week honors for second consecutive time
Manit Patel, General Assignment Reporter
December 13, 2021
EAST LANSING, Mich—Michigan State men's basketball freshman forward Max Christie was named as the Big Ten Freshman of the Week for the second time this season following a pair of impressive wins for the Spartans.
Christie, a 6-foot-6 guard from Arlington Heights, Illinois, averaged 8.0 points, 3.5 rebounds, 1.5 assists and 1.5 steals per game in MSU's two conference wins over Minnesota and Penn State.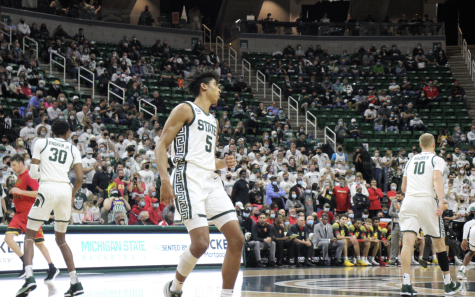 In MSU's 75-67 win over Minnesota on Dec. 8, he scored nine points to go along with three steals, five rebounds and a career-high three blocks in 33 minutes of action. His strong wing defense also shut down the Golden Gopher 3-point shooting attack; Minnesota was only 6-for-23 from deep last Wednesday.
Following the wire-to-wire road victory, the Spartans hosted Penn State on Saturday, and Christie came up big on the defensive end yet again (the Nittany Lions shot 5-for-20 from 3-point range). He also added seven points and two rebounds in 25 minutes as the Spartans won 80-64 and improved to 9-2 on the season and 2-0 in Big Ten play.
This is Christie's second consecutive Big Ten Freshman of the Week award after he was named Co-Freshman last week alongside Wisconsin guard Chucky Hepburn. Through 11 games, Christie is averaging 8.7 points per game and 3.2 rebounds despite only shooting 33.3% from the floor and 26% from deep.