MSU women's basketball seeks first conference win at home against Illinois
East Lansing, Mich – Sports fans say December is the best time of the year. Spending holidays with family is one reason, but another is the beginning of Big Ten basketball conference play. That time is underway for Michigan State women's basketball, as it hosts the University of Illinois on Thursday at 6 p.m. in its second Big Ten matchup of the season.
After three consecutive losses, Illinois (4-4) gained a much-needed 14-point win over Eastern Kentucky last Sunday. In that contest against the Colonels, Illinois sophomore and East Lansing native Aaliyah Nye led the team in scoring with 16 points, shooting 5-for-11 from 3-point range. Nye did not attempt a single field goal inside the 3-point line in the victory.
Former Michigan State Spartan forward Kendall Bostic had a sensational night for Illinois, posting a double-double with 12 points and 22 rebounds. This will be her first contest back at the Breslin Center since transferring to Illinois. 
The Fighting Illini performed well offensively, shooting 45% from the field. Defensively, they allowed 21 offensive rebounds that led to 16 second-chance points for Eastern Kentucky. 
Illinois is coached by fifth-year veteran Nancy Fahey. After 31 years at Washington University and five Division III National Championships, Fahey took the helm in Champaign, Illinois in 2017. She hopes to get her first win over Michigan State on Thursday night.
Last year, Michigan State won the only meeting between these two teams by a commanding 21 points, 81-60. Spartan guard Nia Clouden dominated at the Breslin Center with 28 points.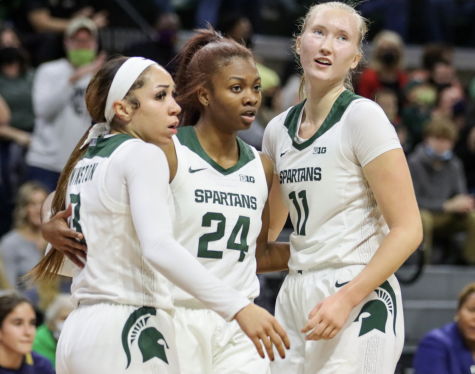 The Spartans look to get back on track with a necessary win in their second conference contest. Michigan State (6-4) is coming off back-to-back losses to top-25 ranked opponents in No. 24 Notre Dame (76-71) and No. 9 Iowa (88-61). The recent high-talent competition is prime preparation for the showdown with a .500 Fighting Illini squad. 
In the loss to Iowa, Clouden continued her storied success, scoring 18 points and grabbing five rebounds. Freshman guard DeeDee Hagemann had herself quite a night, recording 12 points and corralling a career-high six rebounds. 
As a team, Michigan State shot just under 40% from the field but struggled from the free-throw line, only hitting 11-of-19 attempts. More than half of the Hawkeyes' points were scored in the paint, so post presence is paramount against Illinois' skilled front line.
Michigan State has dominated this matchup in recent years, winning the past eight-straight meetings, with Illinois' last victory back to Jan. 23, 2014. If history repeats itself, the Spartans have great odds to get their first conference win.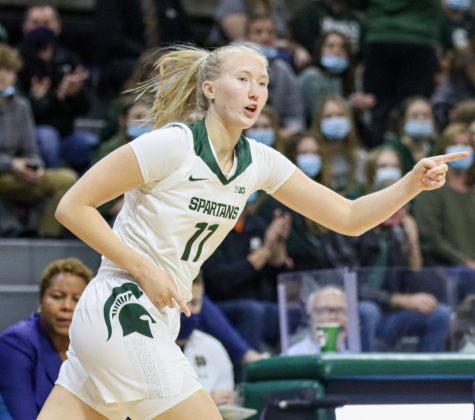 Cavs Keys: 
Powerful post presence: In the past five games, Michigan State has allowed 12.2 offensive rebounds per game. Extra possessions lead to extra points. The Spartans must contain Bostic, who averages 11.5 rebounds per game.
Kick it to Clouden: Clouden is having a sensational start to the year. Averaging 19.5 points and 5.2 assists per game, Clouden is shooting 49% from the field and 43% from three. Get her the ball, and MSU will succeed.
Protect perimeter: Illinois has won and lost by the 3-point shot this season. The last two Fighting Illini wins included nine or more made 3-pointers. MSU must contain Nye, who averages 40% from 3-point range on 6.2 attempts per game. 
Prediction: MSU 81, Illinois 70
Tipoff is set for 6:00 p.m. at the Breslin Center. Tune in to Big Ten Plus for all the action.