Michigan State guard Alyza Winston enters transfer portal
Marin Klein, Women's Basketball Beat Reporter
December 9, 2021
Michigan State junior guard Alyza Winston has entered the transfer portal midseason.
Winston is no longer on the MSU roster, and her profile for this 2021-2022 season has been removed from the Michigan State Athletics website.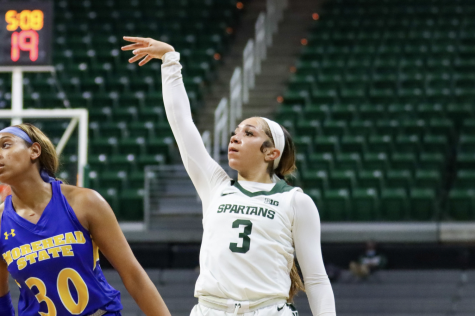 With Winston no longer a member of the Spartans' roster, this will leave a large gap in the team. She has been a lead scorer this year, averaging 12.2 points a game. Winston has been a key part of the team's success in the first 10 games of the season. She helped the program reach its high of 17 3-pointers in the home opener. Her abrupt departure will hurt the Spartans. 
With no more Winston in the starting lineup, MSU coach Suzy Merchant is going to have to get creative with her replacement. Most likely, it will be freshman guard DeeDee Hageman, who has averaged 8.2 points per game for the Spartans this year, along with 26 total rebounds and 10 steals.
Merchant has already had to get creative with her starting lineup after losing starters Tory Ozment and Julia Ayrault to season-ending injuries. With Winston gone, players are going to have to step up and put in the work if the Spartans want to see success this season. 
The Spartans take on Illinois Thursday evening, so fans will see how they adjust to this quick change and who will be replacing Winston in the starting lineup.