MSU forward Farai Mutatu invited to Adidas Major League Soccer College Showcase
EAST LANSING, Mich – Michigan State men's soccer captain Farai Mutatu is heading to the Adidas Major League Soccer College Showcase on Dec. 10, 2021, held in Cary, North Carolina. The senior forward is one of 44 collegiate prospects invited to play in front of professional scouts in hopes of entering the 2022 MLS SuperDraft.
"Farai has put a lot of work into his goal of becoming a professional soccer player," head coach Damon Rensing said in a press release. "He has made sacrifices in everything he does with this goal in mind."
Mutatu led the Spartans in goals with seven, earning him and co-captain Jack Beck a place in the All-Big Ten First Team.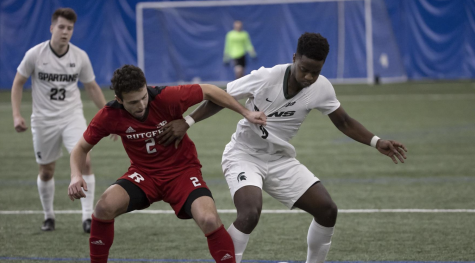 The electric duo of Beck and Mutatu combined for eight goals and 10 assists under Rensing this season and helped lead the Spartans to several marquee wins over teams including Ohio State, No. 22 Rutgers on the road and Notre Dame in South Bend.
On the last episode of DeMartin Download, Rensing joined as a special guest and said that he was confident that Mutatu would make the MLS Showcase and that "there's been a good buzz about him playing at the next level."
The former Haslett star ranked fifth in goals scored in the conference and finished fourth in points with 17.
Mutatu was one of five Spartans to start all 17 games this season, and his influential performances led MSU to the quarterfinals of the conference tournament before bowing out to Penn State 2-0 on Nov. 7.
"The MLS combine is the next step in this journey," Rensing said. "What is amazing about Farai is that he did this being the ultimate teammate and leader."
Mutatu could follow the footsteps of former Spartans who earned a place in an MLS side such as DeJuan Jones, Giuseppe Barone, and Jay Chapman.
Mutatu will be alongside six other athletes representing the Big Ten conference including Maryland's Joshua Bolma, Ben Bender, and Malcolm Johnston.