MSU guard Max Christie receives Big Ten Co-Freshman of the Week honors
EAST LANSING, Mich– Coming off two impressive performances this week, Michigan State freshman guard Max Christie has been named as the Big Ten Co-Freshman of the Week along with Wisconsin guard Chucky Hepburn. This is the first time Christie has earned this honor.
Christie struggled in the Battle 4 Atlantis tournament over Thanksgiving, averaging just three points over three games, but bounced back strong this week against Louisville and Toledo. Against the Cardinals, he scored 11 points on 3-for-6 shooting and helped propel Michigan State in their 73-64 win over Louisville on Wednesday night.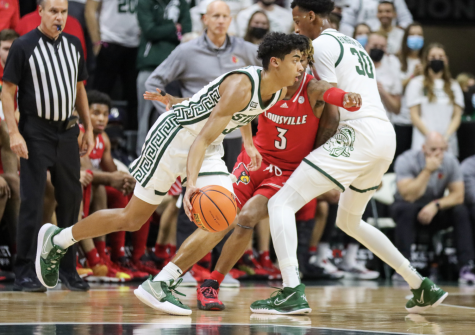 He also was lined up across from Cardinal guard Noah Locke and held him scoreless on 0-for-7 shooting. It was only the second time all season Locke hadn't scored at least 12 points.
On Saturday evening, Christie led the Spartans in scoring for the first time this season dropping 14 points along with three assists and three rebounds in their 81-68 victory over Toledo. He was active on the defensive end as well, blocking two shots and holding Toledo's leading scorer, guard Ryan Rollins, to 1-for-7 on three-point attempts. 
The former five-star recruit from Rolling Meadows, Illinois is the first Spartan to earn Freshman of the Week honors since Rocket Watts on March 9, 2020. The Spartans will look to Christie to continue his strong play as they begin conference play this Wednesday in Minnesota.