Spartans move to 7-2 with 81-68 win over Toledo
EAST LANSING — The Michigan State men's basketball team grabbed another non-conference win Saturday against a formidable Toledo Rockets squad. It was MSU's shooting, defense and group effort offensively that led to the 81-68 win.
With the win, the Spartans improved to 7-2 on the season while the Rockets fell to 6-2.  It was also the 650th win of head coach Tom Izzo's career at MSU.
The Rockets kept it close in the first half, holding Michigan State scoreless for the first 2:50 and leading 10-7 through the first six minutes played. 
Just when it looked like Toledo was going to keep it close, MSU answered. It took three shots in one possession for the Spartans to get their answer but freshman guard Jaden Akins drilled a 3-pointer after two missed alley-oop attempts and a Marcus Bingham Jr. jumper to tie the game at 10. 
From there, it was all MSU. In the remaining 13:16 of the half, MSU would shoot 9-for-17 from downtown (despite starting the game 0-for-5), force nine Toledo turnovers and outscore the Rockets 33-13 the rest of the way.  
MSU was able to do this because of the makeup of this team. A team regarded as having no superstar didn't need one tonight. Five Spartans reached double figures tonight with Akins following closely behind with nine points. Akins has earned his spot in this rotation since his career-high 12-point game in the Battle 4 Atlantis Championship game against Baylor. He finished with nine points, seven rebounds, three assists and had zero turnovers. 
Toledo hung around all night after a rather dismal first-half offensive performance. The Rockets outscored MSU 45-38 in the second half due in large part to sophomore guard Ryan Rollins.  
"I think a trend with our team right now is we come out strong in the first half and then in the first four minutes of the second half slow down for some reason," MSU forward Max Christie said.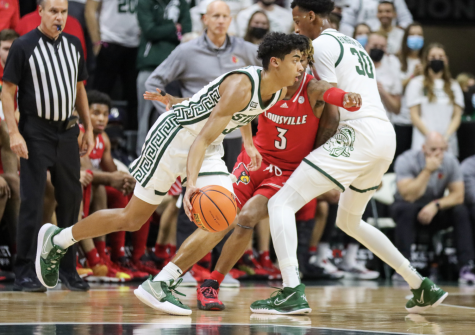 Rollins, a 2020-21 MAC Freshman of the Year and All-MAC honorable mention, was locked up by Christie in the first half. Rollins had just three points and shot 1-for-7 from the floor while committing four turnovers. 
The second half was a different story. The Rockets schemed around Christie and worked him off of Rollins in a lot more screens. Rollins took advantage scoring 14 of his eventual game-high 21 points in the second half. 
Christie has been elevated to a new role defensively for Michigan State. He's been tasked with guarding each of MSU's last two opponents' leading scorers. Against Louisville, he shut down forward Malik Williams, and although Rollins finished with 21, many of them were not while Christie was guarding him. 
 "It was more of a personal goal for me. In high school I wasn't the best defender I could be so it was more of a personal goal for me this year to be the best defender I can be," Christie said. 
MSU's run to end the first half was just too much for Toledo to fight back from. This Michigan State team is deep and appears to only be getting deeper.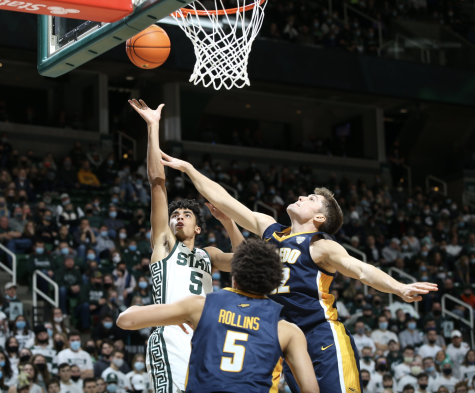 Through the first eight games of the season, Tom Izzo couldn't get his squad to all click at once. It was a flurry of different players having good games at sporadic times and while the Spartans were able to win six of their first eight games, they didn't win any of them as they did on Saturday.
MSU had just 12 turnovers in the game including zero from guards Tyson Walker and Akins. Walker finished with 11 points and six assists as well. 
MSU entered this game shooting just 35% from deep on the season. But after a 55.6% 3-point shooting performance against Louisville, and a 46% outing against Toledo, Izzo is excited about his team's shooting ability. 
It wasn't just a 3-point shooting improvement either, as MSU shot above its season-average by percentage in all three categories (field goal, 3-point, free throw) against Louisville, and did so again in 3-point and free-throw percentage against Toledo. 
The Spartans will next take on undefeated Minnesota on the road at Williams Arena at 9 P.M. on Wednesday, Dec. 8.  It is set to be the first Big Ten game of the season for MSU.