Klein: MSU needs to get little things right going forward
Marin Klein, Women's Basketball Beat Reporter
December 3, 2021
EAST LANSING, Mich—On Thursday night, Michigan State women's basketball fell short to No. 24 Notre Dame 76-71. Michigan State walked in having only won one matchup in 2019 against Notre Dame in the series history of 12 games.
The Spartans have come out very strong this season, leading the nation in total assists and third for assists per game. With the strength they have shown this season, Michigan State has still been left out of the Top 25 rankings. Why?
While the Spartans have definitely proved themselves and been playing strong at certain points, they still remain off out of the rankings, partially due to the two out-of-conference losses to Fordham and St. Francis. There have even been some games that Michigan State barely came out on top (Marshall, Valparaiso).
The Spartans have the capability to be a dominant team, but small mistakes are costing them. With conference games and high-level opponents coming up on the schedule, Michigan State needs to look to the little things if they want to see the success that they are capable of.
Throughout the 1st half of the match against the Fighting Irish, the Spartans remained ahead of them, but never by a large margin. What was working for the Spartans?
MSU had strong passing in high-pressure situations and had clean transitions. Like they have in multiple matches this season, they dominated at 3-point shots right out of tip-off, but as the game went on, the shots stopped falling. Notre Dame picked up momentum in transition and off contested rebounds and the Spartans began to fall behind.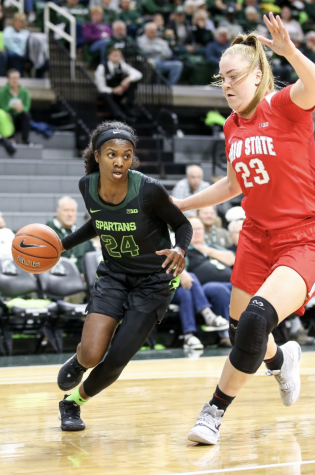 As the game progressed, MSU continued to struggle as Notre Dame kept scoring at a rapid pace. The Spartans' transition defense gave the Fighting Irish a chance for breaks. Even though they kept the margin close, MSU couldn't get those stops when they needed to.
The Spartans must be able to pick up the speed on defensive transitions and get down to the basket. Michigan State has shown bursts of speed on their own transitions, but when the other team gets the ball they can't seem to get down the floor in time.
Michigan State's biggest overall weakness has been personal fouls. They are giving easy chances at points for the other team on fouls that could be avoided.
In their two losses, Michigan State had a total of 22 personal fouls at Fordham and 21 at St. Francis. In this matchup against Notre Dame, the Spartans had 19. Now, of course, fouls happen to everyone in every sport. However, the Spartans have had plenty of fouls that can be avoided and keep their opponents from the free throw line.
These fouls on key players like Nia Clouden and Alyza Winston have caused them to spend more time on the bench, so they aren't at risk of being fouled out of the game. With two starters, Tory Ozment and Julia Aryualt, out with season-ending injuries, it definitely hurts MSU when your proven top-level scorers have to come out of the game in crunch time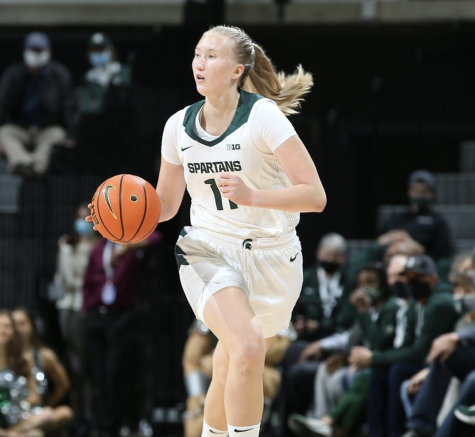 Today's match will definitely aid the Spartans in the long run as they never let the Fighting Irish lead by more than 10 points. A close game against a ranked team is a good sign, but still not good enough for a team that made the NCAA tournament last season. The Spartans have the talent and skill to make it far this season, but they have to start fine-tuning the small technicalities that are keeping them from victories.