Previewing Michigan State volleyball at Wisconsin
The Michigan State Spartans volleyball team will travel to Madison to face off against the Wisconsin Badgers on Friday night at 9. The Spartans are coming into this matchup at 11-14 overall with a 4-12 record in Big Ten play. The No. 5ranked Badgers come into this matchup at 21-3 and are tied with Nebraska with a 13-3 conference record. 
The Spartans are coming off a home loss to the Penn State Nittany Lions, losing three sets to one at Jenison Field House last Saturday. Outside hitter Sarah Franklin led the Spartans with 14 kills and two aces in a losing effort. Michigan State recorded 40 kills to Penn State's 60 and scored 56 total points to Penn State's 75 total points.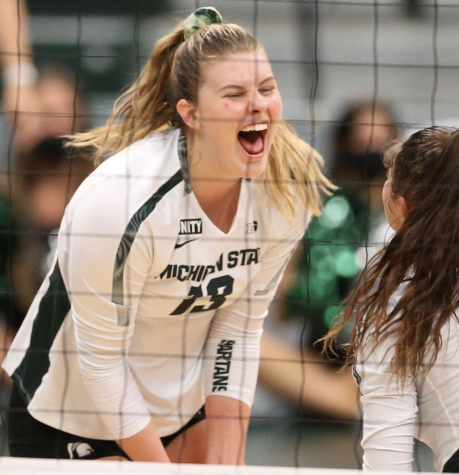 The Badgers are coming off a 3-1 home win against the Northwestern Wildcats last Sunday. Wisconsin is led by graduate student middle blocker Dana Rettke, who has 284 kills and 346 points on the season. Rettke has received a number of honors throughout her career at Wisconsin, most notably winning Big Ten Female Athlete of the Year for the 2019-20 season. Rettke has recorded 2,169 total points and 1,696 kills throughout her career as a Badger. 
This will be the second meeting this season between the Spartans and the Badgers. Wisconsin beat Michigan State 3-0 back on Oct. 15 in East Lansing. Middle blocker Devyn Robinson led the Badgers to victory with 10 kills in the October matchup and Rettke recorded six blocks. The Badgers recorded 39 kills, nine blocks, 35 assists and 40 digs, while the Spartans totaled 28 kills, two blocks, 26 assists and 39 digs.
After Friday's matchup with Wisconsin, Michigan State will return home on Sunday to play arch-rival Michigan, while Wisconsin will travel to Minneapolis to play the No. 11-ranked Minnesota Golden Gophers.
Michigan State's matchup with Wisconsin will be its final road contest of the season before it concludes 2021 with a three-match home stand. Friday's match can be viewed on Big Ten Plus.