Spartans beat Niagara handily, 89-65
On Sunday afternoon, Michigan State University's Women's Basketball team defeated Niagara University, 89-65.
MSU put forward a dominating offensive performance in the first half, opening the floodgates with an early 8-0 first-quarter lead. The Spartans' started off with an eight-point run led by guard Nia Clouden, she had eight first-quarter points
Clouden continued to lead MSU's offense with the help of freshman guard Deedee Hagemann and junior guard Alyza Winston. The offensive trio of Winston, Clouden, and Hagemann was responsible for 22 of the Spartans' 28 first-quarter points. After just a few Niagara free throws, the Spartans ended the first quarter 28-8.
The second quarter saw a similar offensive presence from the Spartans as they extended their lead throughout. 
Despite the deficit, Niagara guards Ally Haar and Kyra Grimshaw were able to drop in a few three-pointers for the Purple Eagles. Haar and Grimshaw finished the game with 11 and eight points respectively. Niagara managed to go on a nine-point run which finally ended with Hagemann sinking two free throws. The Spartans led at the break,50-27.
Early in the third quarter, Niagara went on a 12 point run which brought the score to 59-41, slimming Michigan State's 23-point halftime lead to just 18, the closest differential of the entire second half. The Spartans retaliated with a six-point run of their own.
The fourth quarter saw Niagara start with a strong offensive push, scoring the first two baskets of the game's final stint. However, MSU did enough in the first three quarters to be comfortably in control and it was time for some of the Spartans' reserves to get some run.
Brooklyn Rewers made a nice impact for MSU, tallying a few fourth-quarter buckets to keep the Spartans comfortably ahead of the Purple Eagles.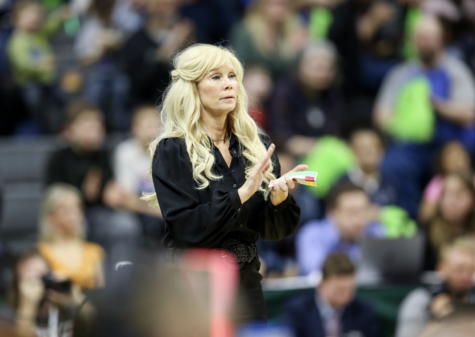 MSU head coach Suzy Merchant brought in forward Isaline Alexander from the bench to get some minutes and focus on developing her defensive skills. Alexander took the baton on offense as well, as she scored 8 points accounting for nearly half of the Spartans' total points in the fourth quarter. With Alexander controlling the paint, the Spartans maintained their lead, winning the game 89-65.
The Spartans will take on Valparaiso in East Lansing at the Breslin Center in their next game at 7 PM on Tuesday, November 16. Stay tuned to WDBM for updates and coverage.