Three takeaways from Spartans' win over Niagara
East Lansing– The Michigan State Spartans earned their second win of the season Sunday afternoon with an 89-65 win over Niagara. The Spartans are now 2-0 on the year as they continue their non-conference schedule. Here are some takeaways from the victory.
A balanced offensive game
Michigan State turned heads in its season opener when it made a school record 17 3-pointers and shot 60.7% from deep. This performance did not carry over into Sunday, though, as the Spartans shot just 22% from 3-point range. 
Michigan State was able to make up for this lackluster shooting by penetrating and getting shots close to the basket. The Spartans had 52 points in the paint Sunday, which doubled their total from the season opener.
Michigan State also got everyone involved, as 11 different Spartans scored in the game and four of them reached double figures. 42 of Michigan State's 89 points came from off the bench and provided a major offensive boost.
Great team passing
Along with the balanced scoring, the Spartans showed great passing ability from multiple players. As a team, Michigan State assisted on 27 of its 36 field goals and had seven different players record an assist. 
Freshman guard DeeDee Hagemann led the effort with seven assists on the day and had some flashy no-look passes to teammates for easy baskets.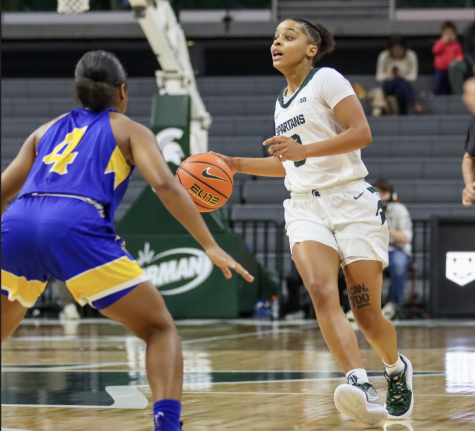 Guards Alyza Winston and Moira Joiner also did a great job getting teammates involved as they both finished with six assists on the day. The passing from all the Spartans looked on point Sunday.
Strong guard play from Spartans
Michigan State has gotten great performances out of its guards early in the season. Senior Nia Clouden has had a great start to the season, putting up 15 points in Michigan State's opener and another 12 on Sunday.
Winston has been on a tear to start the season. She has been the leading scorer in both games this season, putting up 20 against Morehead State and another 17 against Niagara. Winston provided more than just scoring Sunday, as she had six assists and two steals on defense to cap off an impressive performance.
Hagemann has done a great job coming off the bench to start the season. The 5-star recruit from Detroit has reached double figures in both games as a Spartan and has shown great playmaking ability with a team-high seven assists Sunday.
Michigan State will look to continue its hot start in its next game on Tuesday against Valparaiso.