Spartan volleyball sweeps Rutgers at home
Michigan State Volleyball beat Rutgers 3-0 at Jenison Field House on Thursday night.
The Spartans had conquered Rutgers last weekend 3-1 on the road and sought to earn a repeat victory at home. In three impressive sets, the Spartans took the victory, setting up a positive attitude for Saturday's matchup against Penn State.
In the first set, the Spartans started with a three-point run. This set the tone, as MSU maintained a lead for most of the set. An earlier service error by outside hitter Biamba Kabengele cost the Spartans some momentum, but the team was able to keep up with Rutgers' defense. 
Kabengele and fellow outside hitter Sarah Franklin and middle blocker Naya Gros established themselves early on in the set as the offensive leaders for the Spartans.
Rutgers took the lead by one in the first set at 23 points, but MSU quickly took back the lead. 
After tying for the fifth time in the set at 24-24, Gros was able to put the Spartans at set point. A service ace by Franklin gave MSU the first set 26-24.
In the second set, MSU established a quick lead. Kills by both Franklin and Gros extended the Spartans' lead to four points. After a service error by middle blocker Rebecka Poljan briefly paused offensive momentum, MSU quickly extended its lead to 8-4.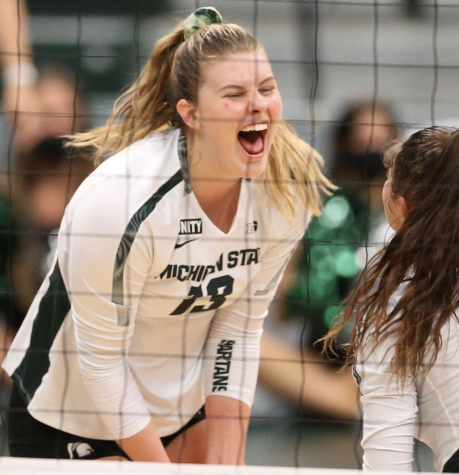 Errors by the Spartans allowed for Rutgers to tie the second set at 10-10 with Rutgers eventually taking the lead with 12 points. After going back and forth, continuing to tie the score, the Spartans made a key run to force a Rutgers timeout at 20-15.
Multiple service errors put MSU into set point once more with Gros making a crucial block to win the set 25-20.
Despite Rutgers taking the first point in the third set, MSU established a lead and held it for the entire set. The Spartans' first run gave them six points, putting them up by five. 
The Spartans' offense continued to put pressure on Rutgers with the help of outside hitter Molly Johnson. MSU eventually grew its lead to eight points, leading Rutgers 20-12.
Late in the third set, a kill by MSU was called under review, eventually being overturned and putting a halt to the Spartans' growing offensive momentum. After the reversed call, Rutgers went on a three-point run bringing the score to 20-18, MSU. However, the Spartans regained offensive control after a kill by Johnson. 
Several attack errors by Rutgers then put the Spartans into match point with Gros scoring the final point. The Spartans took the final set 25-19.