Michigan State men's basketball signs two 4-star recruits
On Wednesday, both of Michigan State's 2022 basketball commitments signed their National Letters of Intent.
4-star point guard Trejuan Holloman from Saint Paul, Minnesota and 4-star power forward Jaxon Kohler from American Fork, Utah combine to give the Spartans the 32nd-rated class in the country and sixth-rated class in the Big Ten, according to 247Sports. 
Holloman, who is also a 3-star defensive back, is ranked 67th nationally and viewed as the 11th best point guard in the nation. He is also the highest ranked player in Minnesota for his class. He averaged 20.3 points, 9.3 assists, 4.7 rebounds and 4.2 steals while shooting 49.0% from the floor in 23 games last season for Cretin Derham Hall. 
Kohler is ranked 62nd nationally and ninth among power forwards. He is seen as the sixth best player in Utah. He finished last season averaging 21.6 points, 8.9 rebounds and 2.5 assists after transferring to Southern California Academy. 
MSU coach Tom Izzo has had some very high praise for Holloman. 
"In Tre, we think we've got a competitive guy who can run the point, who can distribute the ball, who can guard the world and has improved his shooting each and every year," Izzo said. "So we're very excited about getting Tre and think he's going to be a big part of our future."
Izzo gave recognition to Kohler as well.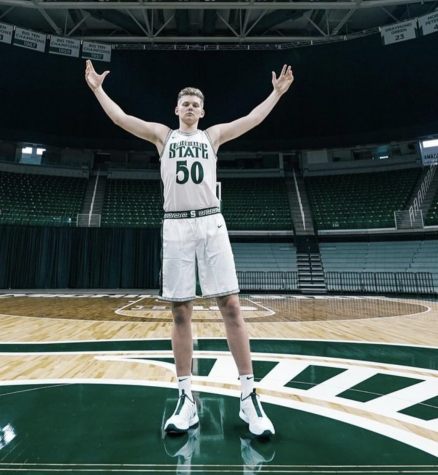 "He's a post player, ala the Zach Randolph's, for us, of the world, a guy with incredible footwork and size, can really score the basketball and a guy that, when he was on campus, everybody kind of connected with him," Izzo said. "So we're very excited to get Jaxon. We think he can be a multi-dimensional scorer. He can score inside, he can score outside. He's a very good passer with a high basketball IQ."
While they have signed their only two commits thus far, the Spartans are still looking to add on to their stellar class with a commitment from 4-star small forward Ty Rodgers. MSU has been going after Rodgers heavily as of late, and he recently named MSU as one of his top-four schools.