Four Spartans receive Big Ten honors for women's soccer
EAST LANSING – The Big Ten conference has released its regular season awards, and the Michigan State women's soccer team has three players listed in the All-Conference awards. This year's team has the most players on the list since 2011 when the Spartans went 15-6-1.
Senior Lauren Kozal has been named as the 2021 Big Ten goalkeeper of the year and is listed in the All-Conference first team, while forward Ava Cook and defender Samantha White have been listed in the second team.
Kozal, White and Cook have been instrumental to the Spartans' success in the first year of coach Jeff Hosler's career at MSU. 
"Individual recognition is often a byproduct of the team's ability to perform and get results," Hosler said in a press release. 
Midfielder Bella Jodzis also won the Big Ten sportsmanship award Thursday afternoon.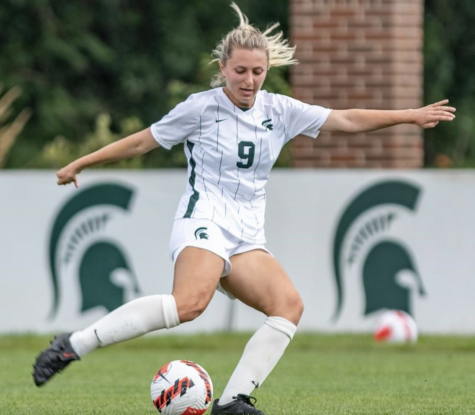 "She [Jodzis] plays hard and respects the game," Hosler said. "She came back to be a part of something bigger, and she helped create that opportunity in a special way."
Cook leads the team in goal involvements with seven goals and three assists, making her one of the biggest attacking threats in the conference. The former Grand Valley State forward recently scored a brace against Maryland on Oct. 21 and hopes to carry her form onto the postseason. 
Throughout the regular season, Kozal ranked first in saves with 75 while only having conceded 12. She kept seven shutouts and was second in saves per game with 4.41.
"She's a highly skilled shot-stopper, great in traffic, and holds most things thrown at her," Hosler said. "Beyond that, she's an excellent leader and eager to learn." 
The Spartans (5-4-1 in Big Ten) finished in fourth place in the Big Ten standings and are set to host Iowa in the first game of the tournament this Sunday at 1 pm.