MSU earns 2-2 tie against UMass Lowell behind 37 saves from Drew DeRidder
Marin Klein, General Assignment Reporter
October 23, 2021
On Friday, Michigan State traveled to New England to face UMass Lowell in what was the first meeting since Oct. 25, 2014 between the two teams. The game was extremely competitive and physical, and in the end, resulted in a 2-2 tie after overtime, leaving the Spartans season record at 3-1-1.
With the tie, UMass Lowell fell to 1-1-1 on the season.
MSU senior goaltender Drew DeRidder had an exceptional game with 37 saves and delivered a tie for a Spartan bunch that was outshot 39-17.
This was the River Hawks' first game back since Oct. 3 against Arizona State after being forced to take a break due to COVID-19 related issues, but the team didn't show any sign of rust. 
UMass showed aggressiveness and held on to the possession for a majority of the game. Both teams had their fair share of penalties due to the physicality of the game which left each club with a 5-on-3 man advantage at different points in the game.
The first quarter started off slowly until Michigan State freshman defenseman David Gucciardi scored the first goal of the game, which was assisted by junior forward Griffin Loughran. Despite some quality scoring chances for both clubs, the Spartans went into the first intermission with a 1-0 lead.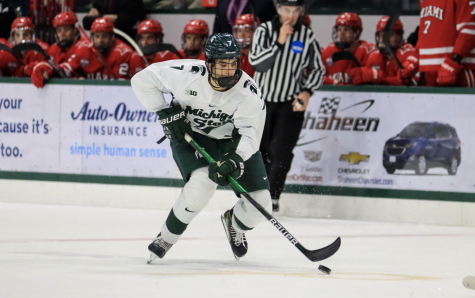 In the second quarter, UMass forward Andre Lee scored at the end of a power play in the middle of the second quarter to tie the game up at one. That score would hold up until the second intermission.
At the start of the third quarter, both teams peppered each other with shots, however, sophomore forward Jeremy Davidson scored at the 9:37 mark to give MSU the 2-1 lead. Davidson, who was named as the Big Ten Second Star of the Week on Oct. 19, currently leads the team with four goals through five games.
Despite the Davidson goal, the River Hawks controlled possession for most of the third quarter, and defenseman Brehdan Engum took a clean shot over the left pad of DeRidder to send the game into overtime. It was the first career goal of his career.
The River Hawks held onto possession for most of overtime, until forward Reid Stefanson received a penalty for slashing, giving the Spartans a chance on the power play. 
Davidson came close to giving MSU the overtime victory, but a late shot was deflected harmlessly by senior netminder Owen Savory. As such, the game ended in a 2-2 tie.  
Overall, the Spartans were 5-for-5 on the penalty kill; seven of the Spartans' 17 shots on goal came on the power play. 
The Spartans are set to finish the series tomorrow night at 6 p.m.