Previewing MSU hockey's series against Miami
EAST LANSING – The Michigan State Spartans (1-1-0) welcome in the Miami RedHawks (1-1-0) for their second series of the season. This is the first time the former rivals will face each other since the 2013 season.
Michigan State is coming off of a series split against the Air Force Academy Falcons, dropping the first game 2-3 in overtime and coming back strong on Saturday with a 5-1 victory. The Spartans were able to shake the rust off of the special teams and net three goals on the power play out of six opportunities, putting the power play at 42.9%, good for sixth in the nation. Griffin Loughran, the transfer from Northern Michigan found the back of the net twice in the 5-1 triumph, while fifth-year senior Mitchell Lewandowski tallied three goals in two games.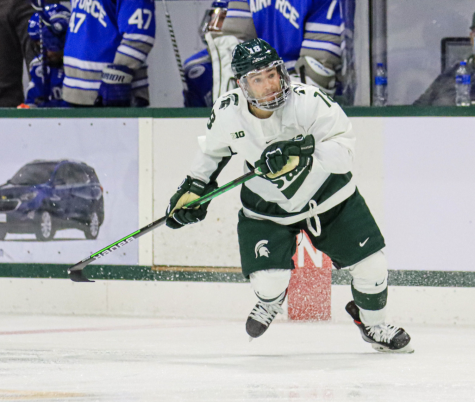 Miami opened up its 2021-22 season last week taking on the Ferris State Bulldogs. The RedHawks won an offensive shootout in the first game 7-4, scoring four times in the second period after the Bulldogs did the same in the first period. However, in the second game, the RedHawks lost a hard-fought battle in overtime 3-4. 
Last season, Miami finished with a 5-18-2 overall record playing in the National Collegiate Hockey Conference, a very strong conference that put three teams into the 16-team Frozen Four hockey tournament.
MSU leads the all-time series 69-34-6 between former Central Collegiate Hockey Association (CCHA) foe, a conference that split up in 2013.
Miami will win if…
…it takes a lead into the third period. The Spartans were 0-13 when facing a deficit going into the third. Miami averaged five goals over its first two games, showing that it can score when needed.
MSU will win if…
…it keeps the special teams hot. In its opening-season match against the Falcons, MSU went 0-for-1 on the power play and lost the game 2-3. The following game, the Spartans were able to notch three power play goals from six attempts and win 5-1. It's safe to say that capitalizing on an extra-man opportunity will aid the Spartans to victory this weekend.
The first game of the series is on Friday, while the second game will take place on Saturday. Both games are scheduled to start at 7 p.m. You can watch the game on BTN+ (subscription required) or follow along on Twitter as Impact 89FM will be live-tweeting the contest.