Evaluating the current state of Spartan football ahead of Game 7
EAST LANSING — Michigan State football has surpassed all expectations so far this season, as it sits 6-0 and at No. 10 in the AP rankings.
A program that hasn't been as relevant in the college football world in recent years is now one of the five Big Ten teams that hold a spot in the AP Poll Top 10. Not only that, but coach Mel Tucker and his crew are turning heads with some of the top offensive weapons in the nation with receivers Jayden Reed and Jalen Nailor and star running back Kenneth Walker.
Walker leads the nation in total rushing yards with 913 and is a legitimate candidate for the Heisman Trophy award, a goal he had set out for before the season started.  He also has nine rushing touchdowns, tied for the fourth-best mark in the country. 
Reed, meanwhile, is eighth in the country with 917 all-purpose yards, 492 of which are receiving yards. Nailor himself is coming off of a three-touchdown, 221-yard performance against Rutgers on Saturday. Those 221 yards are the fourth-best mark in a single game in school history.
Even quarterback Payton Thorne is getting in on the action with 14 passing touchdowns (the 11th-best mark in the country) and a 82.8 QBR, good for 10th in the country. The quartet has helped lead the Spartans to five double-digit wins and 36.7 points a game, which serves as the 22nd best in the nation.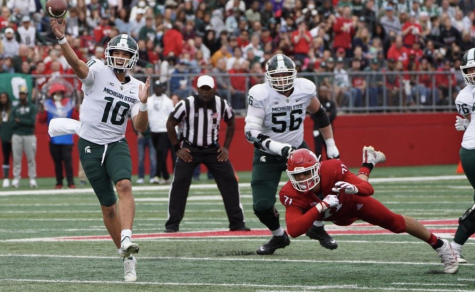 "I'm having a blast," Tucker said in a press conference on Monday. "We're trying to maximize our team and help our guys reach their full potential. That's the beauty of it, and that's what makes it fun."
Tucker stressed the importance of constantly looking for improvement.
"You're never there," he said. "You never arrived. We turn on the tape of the games — who we've played — you don't have to be a rocket scientist to see what areas where we need to improve."
Tucker was clear that the team acknowledges the outside noise surrounding the program.
"We threw up the graphics [and said] 'Hey, this is where we're ranked in the country,'" Tucker said. '"What does that mean? It just means this is where we are in this point in time. It doesn't mean anything else.' We put up the Heisman talk about K9 [Walker] — some of the tweets and stuff." 
He added, "So everyone knows what's going on. There's no elephants in the room. We're not trying to act like things aren't happening. What's important right now? Win. What's important now? Our preparation is key for us."
The Spartans are tasked with another conference matchup this Saturday, as they head on the road to face Indiana at noon.