MSU drops season opener in overtime 3-2
Zac Slowik, News Editorial Assistant
October 8, 2021
EAST LANSING-The Michigan State Spartans came up short on Friday's night's season opener, against the Air Force Falcons. After a hard-fought game, the Falcons were able to finish it in overtime to win 3-2.
Both teams come out of the locker room flying, making the first five minutes of the game very exciting. Freshman forward Jesse Tucker was able to put one in the back of the net, but the play was blown dead for offsides. This then started a huge scrum just five minutes into the game. The chippiness and big hits would continue for the rest of the game. 
Two goals would come in the first period, one for each team. The Spartans would strike first, with a zone entry goal. As Griffin Loughran would find Josh Nodler wide open back door for the quick goal. One minute later the Falcons would answer with a goal of their own. Captain Luke Rowe would find the back of the net and go into intermission tied 1-1.
The first period also included a couple of impressive saves from both goaltenders, the Spartans Drew DeRidder and Falcons Alex Schilling. With both netminders having a combined 20 saves on 22 shots in the first. While the Spartans outshot the Falcons 12 to 10 in the first period, the score was still tied.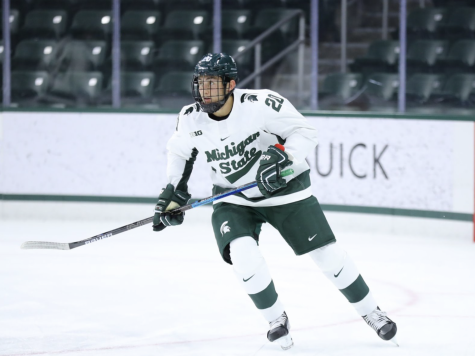 Michigan State would fall behind early in the second period, with a Falcon powerplay goal from Nate Horn. But just three minutes later Michigan State would answer with a goal of their own, scored by Mitchell Lewandowski, assisted by Nicolas Muller and Denis Cesana. This was Lewandowski's 50th career goal as a Spartan. The Spartans would then dominate the remainder of the second but were unable to take the lead.
The third period was back and forth with neither team looking better than the other. With no goals scored in the third period, the game was still tied 2-2 as it headed into overtime.
Both teams had chances early, but it was the Falcons who were able to capitalize. Halfway through the overtime period. Willie Reim scored a top-shelf goal on MSU goaltender Drew DeRidder. As Airforce takes game one of the series 3-2 in Overtime.
The Spartans are back tomorrow for game two, trying to even the series 1-1.