Previewing No. 11 MSU's conference matchup with Rutgers
EAST LANSING – The No. 11 Michigan State Spartans are back on the road in Week 6 to take on the Rutgers Scarlet Knights. Non-conference play is over for the Spartans, and they will begin the rest of Big Ten play with a 5-0 record. Kickoff is set for noon on Saturday.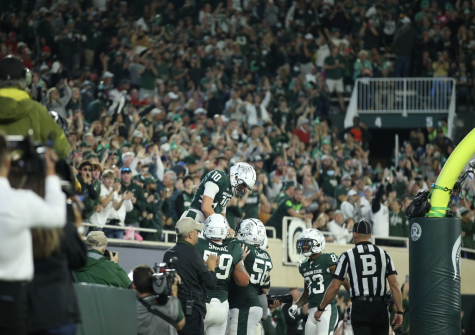 On Oct. 24, 2020, Rutgers knocked off MSU 38-27 after the Spartans committed seven turnovers. That win snapped a 21-game conference losing streak for the Scarlet Knights.
They would go on to finish the season with three road wins over Purdue, Maryland and MSU.
Since joining the Big Ten in 2014, Rutgers has only won 10 conference games. Despite their record over that span, this season's version of the Scarlet Knights has been marginally better. With a record of 3-2 and an established head coach in Greg Schiano, Rutgers is not the push-over the rest of the Big Ten is used to playing. 
Before Schiano got hired by the Tampa Bay Buccaneers in 2012, he won five bowl games from 2006-11 for Rutgers and collected eight or more wins in every season sans 2010.
Schiano has infused more talent into the roster by grabbing transfers from schools like Ohio State, Temple and North Carolina. Improvements have also been visible on the field. Two weeks ago, Rutgers had multiple chances to beat Michigan on the road in the Big House but fell short after some costly mistakes.  
Noah Vedral, the Nebraska transfer, is starting at quarterback for the Scarlet Knights in the second consecutive season. He will come into Saturday's showdown with six passing touchdowns, three interceptions and 914 passing yards.
Vedral has also run for 151 yards in five games, the second-best mark on the team.
Rutgers is still far from a team that can compete in a conference like the Big Ten, however, they rank No. 155 in total offense and No. 78 in total defense in the country. Last week, Ohio State steamrolled the Scarlet Knights 52-13 in a game that resembled one from previous Rutgers' seasons. 
The status of leading wideout Bo Melton is in serious question after Melton left in the first quarter against Ohio State with an arm injury. On the season, he leads the Scarlet Knights with 24 receptions for 253 yards. A season ago, Melton hauled in 47 catches for 638 yards and six scores. That 638-yard mark was the fifth-best mark in the Big Ten.
The Spartans are fresh off a 48-31 home victory over Western Kentucky. The offense bounced back from a dreadful performance the week prior against Nebraska and scored 42 points in the first half for the first time since 2014 against Eastern Michigan.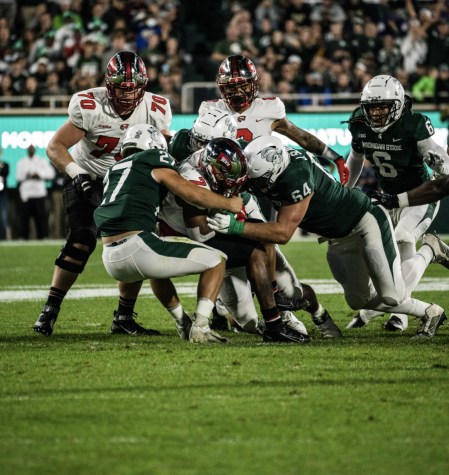 Michigan State now sits at 5-0 for the first time since 2015 and is No. 11 in the AP Poll for the first time since the 2018 preseason poll. Head coach Mel Tucker has also been record-breaking as he is only the second head coach in program history to start 5-0 in just his second season. The only other coach to accomplish that was Charlie Bachman in 1934.  
One of the biggest keys to victory for MSU on Saturday is to continue finding ways to get Kenneth Walker III and Jayden Reed the ball. Walker leads the country in rushing yards with 680 and Reed is the nation's leader in all-purpose yards at 883. Against WKU, Walker ran for 126 yards and three scores while Reed notched 285 all-purpose yards, including an 88-yard punt return for a score in the first quarter.
An area of concern for MSU is managing the linebacker rotation in the first half. Starting middle linebacker Cal Haladay was called for targeting in the fourth quarter of last week's game, which makes him ineligible to play in the first half against Rutgers. With Chase Kline recently entering the transfer portal, defensive coordinator Scottie Hazelton will have to juggle with players like Noah Harvey, Michigan transfer Ben VanSumeren and freshman Ma'a Gaoteote. 
Harvey started in all seven games at the MIKE linebacker spot last season and was second on the team with 54 tackles. He also had 49 tackles in 2019 and started in five games at linebacker. 
On paper, Michigan State is the superior team to Rutgers. However, with big games looming MSU must be careful not to overlook this scrappy Rutgers team who is looking to redeem itself after last week's embarrassing loss.