MSU RB Kenneth Walker named to Maxwell Award Watchlist
EAST LANSING—Racking up nearly 700 rushing yards in five weeks will gain quite a few people's attention.
For Kenneth Walker, he has attracted the attention of the Maxwell Football Club, the agency that annually awards the Maxwell Award to the best all-around college football player in the country. The award is issued after various sportswriters, sportscasters and college head coaches each vote for their desired selection.
Walker, a Wake Forest transfer, currently leads the country with 680 rushing yards (136 yards per game on avg.) and is tied for sixth in the country with eight rushing touchdowns. He also has one receiving touchdown, and his total touchdown number of nine is the fourth-best mark amongst all running backs in College Football.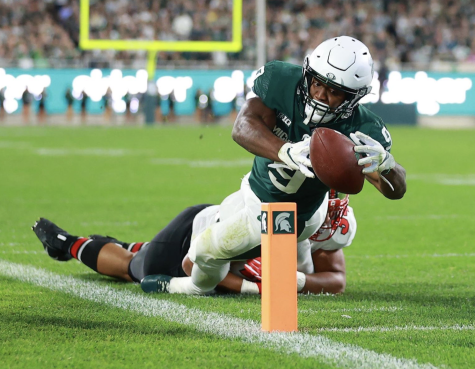 According to Pro Football Focus, Walker leads the country in rushing yards after contact with 515 and ranks second in the FBS with 19 rushes of 10 or more yards.
In addition, Walker has run for over 100 yards in three games this season (Northwestern, Miami and Western Kentucky), including a 24-carry, 126-yard performance to go along with three rushing scores in the Spartans' 48-31 win over Western Kentucky on Oct. 2, 2021.
His 264-yard rushing performance against Northwestern on Sept. 3 set the rushing record for an MSU player in their debut. He was also only the second player in school history to rush for over 250 yards and four scores in a single game, following former running back Eric Allen's 350-yard, four-touchdown performance against Purdue on Oct. 30, 1971.
During his two seasons at Wake Forest, he ran for 1,158 yards and 17 touchdowns (including 13 in 2020), which was tied for the 10th-best mark in the country.
The Maxwell Award winner in 2020 was Alabama wide receiver DeVonta Smith, who also won the Heisman Trophy. Past winners of the Maxwell Award include Cam Newton (2010), Lamar Jackson (2016), Drew Brees (2000), Peyton Manning (1997) and Tim Tebow (2007 and 2008).
Former MSU linebacker Brad Van Pelt is the only Spartan to ever receive the award; he won in 1972 and was the first defensive player ever at the time to receive the award.