Previewing MSU field hockey's matchup with Iowa
EAST LANSING— The Michigan State field hockey team is looking to redeem itself after losing to Michigan on Sept. 24. MSU was scheduled to play at American University on Sunday, but the contest was canceled due to health and safety protocols. The Spartans will now direct their focus towards their matchup with Iowa on Friday at 4 p.m.
The Spartans lost 6-1 and only had a total of six shots against Michigan. The Wolverines, on the other hand, had a total of 32 shots and 18 shots on goal. 
Iowa will come into Friday's matchup with an undefeated 12-0 record that includes a 4-o record in Big Ten with wins over Indiana, No. 6 Penn State, Rutgers and No. 7 Maryland. The Hawkeyes have also notched ranked wins over No. 11 Wake Forest on Aug. 27, No. 1 North Carolina on Aug. 29 and No. 5 Louisville on Sept. 19.
MSU has struggled with in-conference play this year with a record of 0-2 against Big Ten opponents. So far this year, it has a winning record of 6-2 with a 2-1 record at home and a 2-1 record on the road. 
MSU is averaging a total of 3.63 goals per game, while its opponents are averaging 1.50 goals per game with a total of 29 goals this season and a shot on goal percentage of 0.709.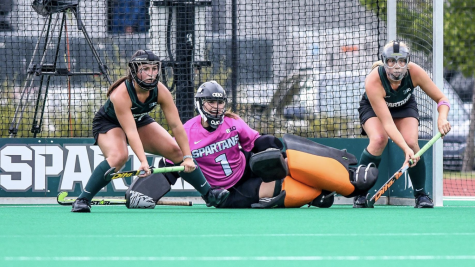 Iowa has had a total of 187 shots  and 45 goals this season. The Hawkeyes have only given up six goals and 60 shots to their opponents. 
Iowa also takes almost 17 shots per game compared to other teams they have played (5.455). 
MSU has been effective on defense this season, giving up only eight total green cards, while its opponents average nine per game. Throughout their first eight games this season, the Spartans have a total of 19 assists, 38 saves and 66 penalty corners. 
Junior midfielder Merel Hanssen has the lead in goals this year for the Spartans, with a total of five. Senior Jade Arundell has done a terrific job this season at goalie, playing a total of five games and only allowing three goals to be scored so far. 
Freshman midfielder Ellie Rutherford is also having a tremendous first season with eight points and three goals on the season, both marks are either the third-best or tied for the third-best on the season.
Fifth-year midfielder/forward Ellie Holley is leading the Hawkeyes in scoring with 23 points and eight goals; forward/midfielder Maddie Murphy is second on the team with 16 points and six assists. Overall, Iowa has six players who have scored 10 or more points this season.
MSU's matchup with Iowa will be its only stop at home before it heads on the road for a three-game stretch that includes Miami of Ohio, Indiana and Northwestern.