Schabath: Accountability will make or break MSU's season
EAST LANSING— Last season, when Michigan State forward Gabe Brown contracted the COVID-19 virus, his stock appeared to have plateaued. He missed three games against Rutgers, Ohio State and Purdue respectively, and when he came back, he had a sluggish start, scoring just six points against Nebraska and zero against Penn State.
Midway through the season, Brown had only reached double figures in scoring against two Big Ten opponents in eight games played and had three games in which he did not put the ball in the basket once.
A player who, prior to last season, was regarded by many as a possible x-factor, quickly became a non-factor 17 games into the season. Then Iowa came to town on Feb. 13.. While it was a Hawkeye thumping that netted the Spartans an 88-58 loss on their own floor, Brown finished with 15 points (including three 3-pointers).
Two games later, MSU traveled to Bloomington to take on Indiana and Brown put up 14 points on 4-for-8 shooting from 3-point range in a must-win game for the Spartans; they recovered from a 13-point first-half deficit and won 78-71.
Brown always brought life and energy to the game coming off the bench for MSU. A poor man's Vinnie Johnson, he could heat up in a second under the right conditions. If Johnson was "the microwave," Brown might've been "the toaster." Being a "poor man's Vinnie Johnson" is probably not a bad thing in the eyes of most Division I college basketball players, but for Tom Izzo, he needs Brown to more closely resemble Joe Dumars.
On Tuesday, Izzo revealed that Brown, along with junior forward Malik Hall, were voted unanimously to be team captains this upcoming season.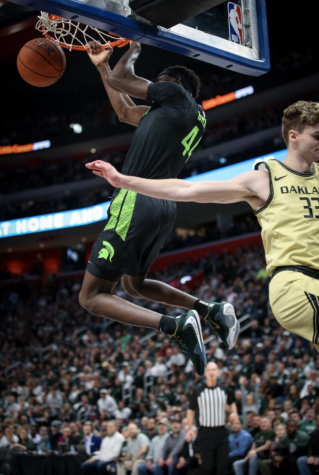 "It wasn't a good year for us (last year), so this was a fresh restart," Brown said. " I wanted to be the person that could really lead this team to get to where we need to get to."
Brown undershot the mark as far as expectations went last season, but he was a pivotal link in the chain to MSU's success. He only averaged 7.4 points and 2.9 rebounds in 21 minutes per game last season; yet, the Spartans went 7-2 in games when Brown scored in double figures, 11-4 when he shot better than 40% from the floor and 9-3 when he shot better than 40% from 3-point range.
Brown scored in double-figures nine times last season, but basketball success lives on a spectrum. On the other end of that spectrum, Brown had 10 games with five or fewer points. The focus this season is on consistency.
"This year I really want to just work on being consistent and getting my teammates involved and win games," Brown said. "That's something I wasn't really able to do last year."
Around MSU's program, word has spread like wildfire that players are improving in bunches.
"I've really been working on my shooting this summer," Hall said. "A.J. (Hoggard) has gotten a lot slimmer, a lot louder. Marky (Marcus Bingham Jr.) has gotten stronger. Mady (Sissoko) had a great summer."
With expectations rising for this team, pressure is building as well. That word apparently isn't in Brown's vocabulary, however.
"Pressure's not a word to me, it's nothing to me," Brown said. "I'm just going out there and trying to win every night."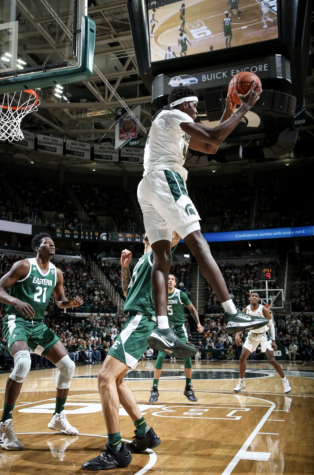 Accountability is in Brown's vocabulary, however, (as well as everyone else on the team) It is quickly becoming an early season theme within the program.
"I've got to hold everybody accountable, I am a captain," Brown said. "I have to do things that other players won't do."
Izzo is coming to terms with his own struggles of keeping players accountable in this modern world of college sports.
"I had a two-and-a-half-hour staff meeting about this today," Izzo said. "How do we do a better job of holding people accountable in this day and age when they might transfer an hour after you talk to them?"
Accountability is the subheading that follows every docket entitled "Spartan Dawgs." In an encounter during practice Tuesday, freshman Pierre Brooks was complaining about the result of a play and didn't want to get off the floor. Hall chimed with a gym-silencing, "Aye! Aye! Shut that s— up, get off the f—— floor. Shut that s— up," as if he was the older dog in the family disciplining an untrained, young pup.
"We call it Spartan Dawgs and we weren't acting like dogs (last year), so just getting that mentality back and attacking everything we're doing and being meticulous and paying attention to what's going on," Hall said.
There's a different atmosphere with this team. It has a new look, a new feel and new faces. There's no more finger-pointing or whining and there are a lot more attentive eyes, and the words "my bad" and "yes, coach" are much more common. The focus is on defense, bearing down and stopping the player in front of you from getting what he wants. Mistakes are followed by floor slaps and hustling back on the other end.
Win or lose this season, Michigan State is going to hold itself accountable.