Previewing Michigan State volleyball's away game against Iowa
The Michigan State women's volleyball team is looking for a win on the road against Iowa after losing last Sunday to Michigan. Iowa has an overall record of 2-10, with a 0-2 in-conference record and a 1-4 overall home record. 
The Spartans, meanwhile, are 7-4 on the season with two consecutive away losses to Indiana (0-3) and Michigan (1-3).  They are also 0-3 in road games this season and 2-0 in neutral sight games with losses to BYU, alongside Michigan and Indiana, and wins over Dixie State and Weber State.
Through 11 games, redshirt freshman Spartan outside hitter Sarah Franklin is leading the team with 134 kills and 152 points. She is also leading MSU with 332 total attacks and 3.94 kills per set.
Junior outside hitter Cecilee Max-Brown is also having a strong season with 104 kills, 285 total attacks, 119.5 points and 2.81 kills per set; she is second on the team in all of these categories.
Redshirt junior defensive specialist/libero Talia Edmonds is tied for Max-Brown with 37 total sets played, Edmonds is also tied with Max-Brown and senior middle blockers Rebecka Poljan and Naya Gros with 11 total matches played.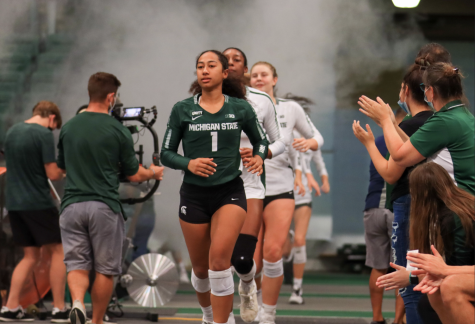 Edmonds, who appeared in 12 of 15 games last season, is looking to make her way through an entire season for the first time since 2018 as a freshman. She missed the entire 2019 season due to injury.
Poljan is third on the team with 111 points and second on the team with 3.26 points per set and 2.5 kills per set.
The Hawkeyes just came off an 0-3 loss to No. 12 Nebraska. Iowa's Courtney Buzzerio, Hannah Clayton, Bailey Ortega, Maddie Slagle and Mari Hinkle are all tied with 47 set plays on offense. Buzzerio is a notable player to watch for Iowa, having a total of 219 kills on the season so far. Clayton is leading Iowa on defense, with a total of 24 blocks on the season. 
Iowa struggled against Nebraska, as it lost the first set 25-17, the second set 26-24 and the third set 25-21.  Buzzerio recorded a double-digit kill in each of the Hawkeyes' matches this year. 
This was Iowa's second time playing against a ranked opponent this season, having faced No. 11 Washington earlier in the season. During the Michigan game on Sept. 26,  Franklin had a double-double, posting a career-best 25 kills and 14 digs. MSU outside hitter Cecilee Max-Brown delivered 13 kills and 10 digs for her third double-double of the season. Additionally, setter Celia Cullen had 50 assists in the game to tie her career best. 
Iowa's only two wins of the season came over Iowa State (3-0) on Sept. 11 and Incarnate Word (3-0) on Sept. 17.
The matchup takes place at 8 p.m. on Friday.