MSU running back Kenneth Walker named Big Ten Offensive Player of the Week
EAST LANSING— After a sensational performance against Northwestern, Michigan State running back Kenneth Walker has been named the Big Ten Offensive Player of the Week.
Walker, who ran for 264 yards and four touchdowns against the Wildcats, catapulted the Spartans to a 38-21 wire-to-wire win in Evanston on Friday night. His 264 yards are the seventh-highest mark for a single game in school history and the highest-ever for a Spartan running back in their debut.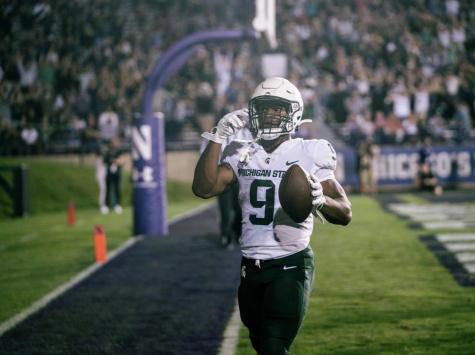 The Wake Forest transfer is the first running back in the Big Ten since 2014 (Melvin Gordon) to run for over 250 yards and four touchdowns. He is also only the second running back in MSU history to run four four scores and 250 yards (Eric Allen ran for 350 yards and four touchdowns vs. Purdue in 1971).
Walker, the first Spartan to run for over 200 yards since Le'Veon Bell in 2012 against Minnesota, transferred to MSU on Jan. 6, 2021 after spending two years, and rushing for 17 touchdowns and 1,158 yards, for Wake Forest. His 13 rushing touchdowns a season ago for the Demon Deacons was tied for the 10th-best mark in the country.
Overall, MSU ran for 337 yards against Northwestern on 37 attempts, an 8.8 yards per carry average. The Spartans will look to continue their success on the ground against Youngstown State this Saturday at noon.
Youngstown State is coming off a 44-41 overtime win over Incarnate Word.