Morse, Miller and Mutatu receive preseason Big Ten honors
EAST LANSING— On Monday afternoon, the Michigan State men's soccer team had three players named to the Big Ten Players to Watch List in goaltender Hunter Morse, midfielder Michael Miller and forward Farai Mutatu, all of whom are seniors.
Morse, a two-year starter who played at Ann Arbor Huron High School, netted two shutout wins for the Spartans (against Penn State and Ohio State) in 2020-21 while totaling 816 minutes in goal. He also compiled a 1.215 goals against average mark, good for the fifth-best total in the Big Ten.
In 2019, Morse led the Big Ten in saves with 75 and finished fifth in the conference with a 1.24 goals against average mark. In 18 starts, he allowed one or fewer goals in 12 overall games, including a 3-0 shutout win over Rutgers on Sept. 27, 2019.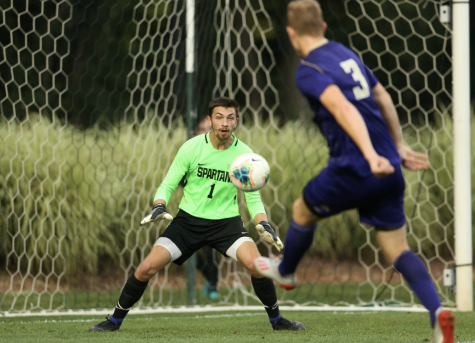 Miller, a three-year starter, has appeared in 56 overall games for MSU over the past four seasons. In 2020-21, he was tied for the team lead in assists with two and finished second on the team with 12 shot attempts.
In 2019, Miller scored two goals and collected three assists while starting in all 18 games. In 1,557 minutes of action, he also compiled 11 shots on goal and seven overall points. As a freshman in 2018, Miller compiled four assists and a goal en route to helping the Spartans earn a berth in the College Cup for the first time since 1968.
Mutatu, who has made 27 starts and appeared in 50 overall games, led MSU in shot attempts with 21 last season as well as shots on goal (10).  In 2019, he scored a pair of goals and collected six overall points; during his freshman season, he set a career-high in total goals (3), assists (3) and total points (9).