From Michigan to California and Florida, Tucker is demonstrating how to win on the recruiting trail
EAST LANSING— If there was a Coach of the Year award for seemingly overnight success on the recruiting trail, one would have to think that Michigan State head coach Mel Tucker would be in the running.
Tucker, who inherited a program that hasn't had a Top-20 national recruiting class since 2016, has spent the summer of 2021 putting the Big Ten, and the rest of the country, on notice. Of course, getting three in-state four-stars to commit within a two-week period of each other also helps with that.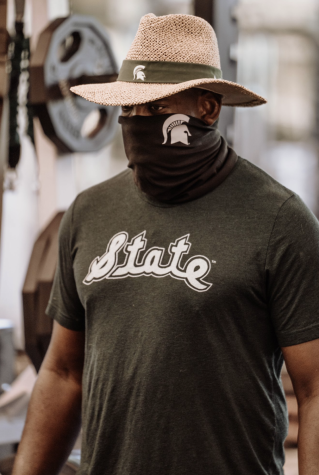 With the exception of 2019 Belleville four-star recruits Devontae Dobbs and Julian Barnett, both of whom left for Memphis in the offseason, the Spartans have struggled to reel in the blue-chip prospects who play and reside in Michigan with regularity. There hasn't been a ton of success out west or down south either.
Perhaps that is about to change.
As of Aug. 13, Tucker and his staff have somehow managed to nab defensive tackle Alex VanSumeren, versatile speedburner Jaden Mangham and rangy wideout Antonio Gates Jr., all four-star recruits and all Michiganders. Out of these three, only Gates could've been considered a "safe" bet at the beginning of the summer.
VanSumeren, the younger brother of current Spartan linebacker Ben VanSumeren, was a Michigan commit for over a year before trading in the Maize and Blue to don the Green and White. Mind you, Tucker had to fend off Alabama, Clemson, Penn State and a host of other perennial national championship contenders to get him. How often could you say that under the era of Mark Dantonio?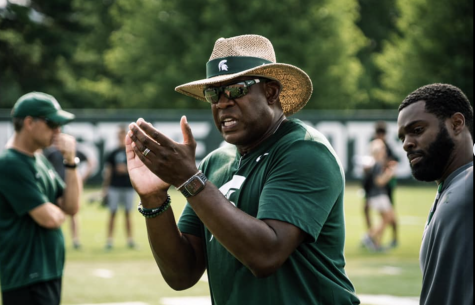 Or how often could you say that, at the wire, with all signs pointing in the other direction, you somehow manage to acquire a dynamic player who possesses game-breaking speed like Jaden Mangham? The Birmingham Groves prospect, who was widely expected to choose West Virginia by seemingly every recruiting analyst, was so impressed with the atmosphere and aura of Tucker's program at "Spartan Con" on July 31 that he reversed course and chose MSU. It bears noting that, originally, Mangham set his commitment date for Aug. 1, but postponed his announcement due to internet issues.
Still, whatever was conveyed to Mangham, as well as VanSumeren, who was also at the camp, worked. We may not know the process behind the recent surge of success, but one cannot argue with the result. From July 26-Aug. 8, Tucker managed to land three program pillars who each are rated as one of the Top 10 overall prospects in Michigan, an impressive statistic in its own right. Those are the kind of things that will help him continue in his yearly quest to best "that school down the road" in every facet.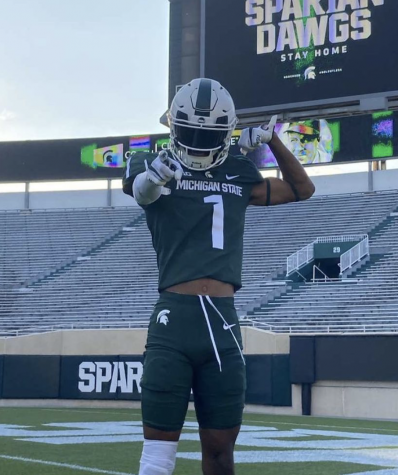 One also cannot argue with the refreshing focus of Tucker's commitment to embracing a coast-to-coast recruiting approach, something that is a staple of the elite college programs. Whereas Dantonio mainly made inroads in the Midwest, especially Ohio, Illinois and Indiana, his successor has landed four prospects from Georgia, two from Arizona and Florida and one each from Colorado and Arizona in just this recruiting cycle alone. Potential quarterback of the future, and former Boise State commit Katin Houser, a Bellflower, California, native, embraced Tucker's stamp on the program so much so that he spurned a myriad of Pac-12 offers to make the 2,200-mile trek east.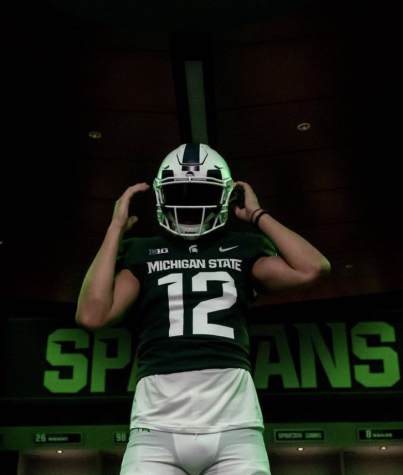 Tucker won't win every recruiting battle he enters into, no one ever does, but the fact that he managed to go into the breadbasket of Pac-12 country and snatch a borderline four-star quarterback away from the likes of Arizona, Washington State and Colorado is something worth commending. It's one thing to issue an offer to a prospect who isn't in your geographic backyard; it's another matter entirely to get them to buy into your program and consider spending four years there.
When you go from gaining prospects who held offers from Ball State, Central Michigan and Bowling Green to Penn State, West Virginia and Michigan, it's a big deal. It's also a big deal when you start cultivating essential parterships with some of the best football programs in America, such as IMG Academy in Florida, the current high school of three-star cornerback commit Ade Willie and force your way into the same room as the "big boys" of college football.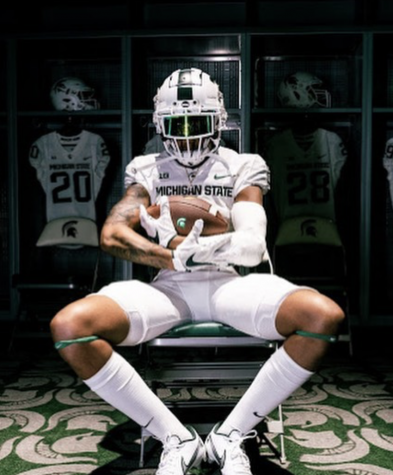 The seeds of this, of course, were laid in Tucker's first recruiting cycle when he managed to snag four-star linebacker Ma'a Gaoteote, a former USC commit, from California and borderline four-star offensive guard Geno VanDeMark from Rutgers' backyard in Montvale, New Jersey.
Although the 2021 MSU recruiting class was somewhat pedestrian by conventional standards (ranked No. 45 overall), it surely springboarded the Spartans to the No. 16 overall recruiting class in 2022. Furthermore, it added much-needed legitimacy to a program that is still trying to find its identity both on and off the gridiron.
Whether it's the apparent newfound emphasis of connecting with these young men on a personal level or letting them play with lightsabers during their in-person recruiting visits, whatever Tucker is doing is working and working well. His ability to relentlessly recruit the most talented prospects in Michigan, while also continually selling what the new and modern MSU football program can do for prospective future Spartans thousands of miles away, has Michigan State set up for future success both home and abroad.