Izzo announces new staff additions
EAST LANSING— A replacement for longtime former assistant coach Dane Fife has been found.
On Monday, head coach Tom Izzo announced a series of coaching and personnel moves, including the addition of Doug Wojcik, the Spartans' recruiting coordinator since 2018, to the coaching staff. Wojcik replaces Dane Fife, who left to join the staff of new Indiana coach Mike Woodson in early April.
Wojcik served as an assistant coach under Izzo from 2003-05 and later spent seven years as the head coach of the Tulsa Golden Hurricanes and three years as the head coach at the College of Charleston. During his tenure at Tulsa, Wojcik had four 20-plus win seasons, en route to becoming the winningest coach in program history. He also served as an assistant coach at Navy, Notre Dame, UNC, Gonzaga and East Carolina.
Former Northern Illinois head coach Mark Montgomery was announced as Wojcik's replacement as recruiting coordinator. After playing at MSU from 1988-1992 under Jud Heathcote, Montgomery returned in 2002 as an assistant coach, a role he held for nine years until being hired as the head coach at Northern Illinois in 2011. Montgomery was dismissed during the 2020-21 season after compiling a 124-170 overall record.
Austin Thornton, who played for Izzo from 2007-12, has been hired as the video coordinator while fan-favorite guard and 2019 Big Ten All-Defensive selection Matt McQuaid returns as the new assistant director of basketball operations.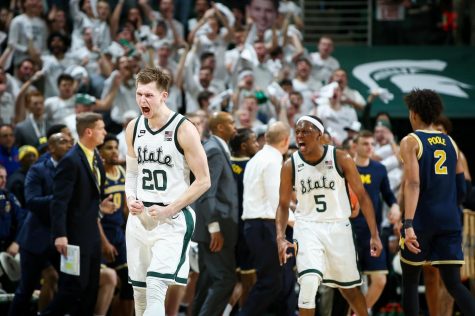 Garrett Briningstool, Izzo's executive assistant the past two years, has been promoted to the role of director of operations and chief of staff. The role was vacated by former player David Thomas, who served in the position for the past six years.
The last announced hiring was the promotion of Julian Stall to director of creative video; Stall served as a staff member for Spartan Vision, MSU Athletics' video agency for the previous four years.